| | |
| --- | --- |
| | Island Mele |
---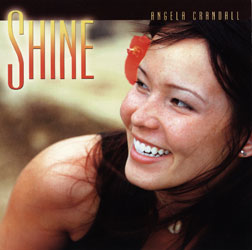 "Shine"
Angela Crandall
(Music Formats)
How time flies! It seems like just yesterday that Angela Crandall was a little girl who occasionally sat in on a song or two with her father, pianist Rich Crandall, at his weekly "Studio 6" jazz gigs at the Musicians' Union. "Studio 6" got to be so successful that Crandall no longer needed to spend money on fliers or press releases to promote it; years passed, and now his daughter is stepping forward, all grown up and ready to fly as a jazz vocalist and recording artist. With dad on piano, and Bruce Hamada (bass) and Darryl Pelligrini (drums) as the rhythm section, she's got solid instrumental support. Ever more important in terms of weighing her long-term prospects, she's worthy of working with them.
Her repertoire here with one exception consists of pop or jazz standards, benchmark material that has served for years in helping appraise the work of singers old and new. With her father as musical director, Crandall displays her appeal on up-tempo numbers and romantic ballads, on duets opposite Hamada's acoustic bass and her father's acoustic piano, and as a scat-singer.
If the opening track, "Rise and Shine," doesn't sell Crandall as a young artist to watch and welcome, the next one certainly does. It's a classic, "On the Bumpy Road to Love," and she sings it with a zest and confidence that suggests that she's unafraid of hitting an occasional pothole or two (Rich Crandall's arrangement of it also includes a nice break that gives the musicians a chance to swing).
"The Best is Yet to Come" opens as a duet with Crandall accompanied only by Hamada's acoustic bass. It steadily gains energy as the other instruments join them and the tempo increases. Her voice slowly shifts from seductive to assertive and then back to sweet; all in all she sounds determined to take the object of her affection to places he's never been before.
Three other songs define other facets of her repertoire. "Yes Sir, That's My Baby" is a whimsical up-tempo romp that she sings without getting kitschy. "A Little Walk" shows her feel for softer romantic songs. "In a Mellow Tone" showcases her scat-singing.
Crandall acknowledges her island roots with the final track, an extended get-down-and-jam rendition of "I'll Weave a Lei of Stars for You" that reminds us that jazz is about improvisation -- and that hapa-haole classics can also swing.
Music Formats
P.O. Box 11237
Honolulu HI 96828
John Berger
, who has covered the local entertainment scene since 1972, writes reviews of recordings produced by Hawaii artists. See the Star-Bulletin's Today section on Fridays for the latest reviews. Reach John Berger at
jberger@starbulletin.com
.