Thirtyninehotel gets minor tweaks but no major overhaul
I'VE GOT to admit I was more than a little worried after I ran into thirtyninehotel's
Mark Chittom
in December during
DJ Eskae's
monthly "Soul Clap" party.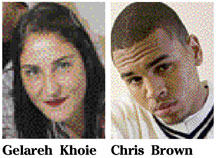 After exchanging pleasantries, Chittom casually mentioned the Hotel Street trailblazer would close up shop for a month to take care of various repairs and renovations. He also said the venue would take steps to change its name, a process that would occur "over time" and allow ownership to pursue additional locations outside Hawaii.
But now it looks like those changes, along with the closure, will not come to pass.
"I decided I like it the way it is," thirtyninehotel owner Gelareh Khoie said earlier this week. "We're going to go back to our roots."
Some improvements are planned inside, including new wood floors and a redesigned sound system. Khoie also said renovations would be managed so they don't interfere with business, and that patrons can expect the bathrooms to be upgraded at some point in 2008.
"Definitely, a bunch of things need to get done ... but we're not going to close down," she said. "We're going to put a lot of emphasis into our art and music this year."
In the short term, expect new Tuesday and Thursday live music offerings to go with happy hour from 5 to 9 p.m. while Friday and Saturday nights continue to stick with the nightclub vibe ...
SPEAKING OF updates -- what's up with the former Ocean Club space at Restaurant Row?
Last I heard, O Lounge owner Elizabeth Watanabe had all but received her keys, with plans to open a new club in time for New Year's Eve. When I talked to her this week, however, it seemed the deal was off.
"The situation dragged out for too long," she said. "My main objective was to open up a great entertainment spot ... (but) the time frame wasn't working, so I had to move on."
Watanabe is confident she'll find a new location "before summer," adding that property managers have already approached her with a number of alternate locations.
She hasn't turned her back on Ocean's former customers, either, launching a new weekly at the O Lounge that features former Ocean Club promoters, bar staff and DJs. "Spice" started last Saturday, billed as an "official Ocean Club reunion" ...
CONCERT NEWS: Didn't move fast enough on the sold-out Chris Brown concert featuring Bow Wow on Feb. 2? A second show was added earlier this week, with tickets for the new Feb. 3 date on sale today. I still can't believe Chris Brown did something the Wu-Tang Clan couldn't do in 2007 -- sell out the Blaisdell Arena ... The Toasters return to Honolulu next month, nearly two years after headlining the "Ska Brawl Tour" here in 2006. They'll play with local openers Golfcart Rebellion and Pimpbot at Anna Bannana's on Feb. 1, followed by a NextDoor gig on Feb. 2 with opening act Go Jimmy Go. Get your presale tickets online at www.808shows.com ... Are the Foo Fighters coming to Hawaii? They have enough time off before touring Japan in April, plus a month off in May after they return to the U.S. from Australia. No word from promoters, but it could happen ...
WEEKEND PICKS: Head to the Leeward side in support of local hip-hop Friday, as Stand Alone Intertainment presents its weekly "4 Real Fridays" party ... Local roots reggae band Isouljahs headline at Tropics Cafe Friday. They'll be joined by Lion Fiya, Ras Mikey and Ryan Mystik; no cover at this one for the 21-and-over crowd ... DJ Quentin Harris will spin a guest set at Lotus Soundbar on Saturday. He'll be joined by local DJs Revise, Konception, Bass-X and Mindgame, with DJ FLX also expected to be there ...