---
FAST FACTS HAWAII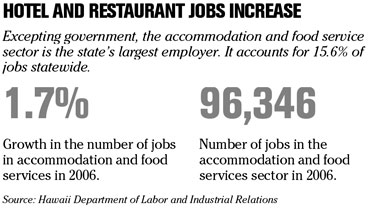 ---
Hoku amends Solarfun deal
Hoku Scientific Inc.
yesterday said it is giving one of its four major polysilicon customers more time to arrange payment, in return for $1 million up front.
Under a new agreement, Solarfun Power Hong Kong Ltd. will have additional 35 days to secure statutory approval for a $44 million standby letter of credit, which would have been due to Hoku yesterday.
In exchange for the extension, Solarfun has provided the Kapolei-based alternative-energy technology developer with a $1 million prepayment, in addition to a $10 million cash payment made last month. The payment reduces Solarfun's future $45 million prepayment obligation to $44 million, due in installments from Sept. 30, 2008, to March 31, 2010.
"We understand that it can be time consuming to obtain approvals through the Chinese government processes as China is still a country under foreign exchange controls," Hoku CEO Dustin Shindo said in a statement.
Hawaiian, go! load factors slip
Hawaiian Airlines
filled a higher proportion of its seats in December than
Mesa Air Group Inc.
's go!, according to data released this week.
For December, Hawaiian posted a load factor of 82.1 percent, down 2.1 percentage points from the same month last year, compared with go! at 65.79 percent, a 0.22 percentage-point drop from last year's 66.01 percent.
Hawaiian filled 87.3 percent of its seats for the year, up 0.9 percentage points from the year earlier. Mesa did not break out annual data for go!.
Hawaiian reports only systemwide numbers and does not break out interisland and trans-Pacific routes. Aloha Airlines doesn't publicly release traffic data.
Brief case
REBRANDED.
Matsushita Electric Industrial Co. will become Panasonic Corp., shedding the name of its founder in favor of its more internationally known brand. The move comes 90 years after the Osaka-based company's founding by Konosuke Matsushita.
HEDGING BETS.
Asset management firm Blackstone Group LP said it will acquire hedge-fund firm GSO Capital Partners LP for as much as $930 million. GSO invests in leveraged finance, which includes loans made to buyout firms like Blackstone.
BUYOUT CLEARED. The Federal Communications Commission has cleared the $19.5 billion deal that will take the nation's largest radio broadcaster private. Clear Channel is being taken private by a group led by Thomas H. Lee Partners and Bain Capital Partners.
---
BUSINESS PULSE