---
FAST FACTS HAWAII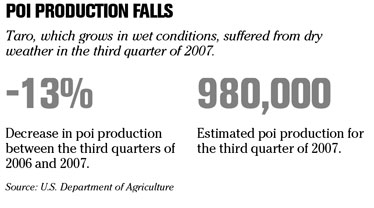 ---
Hawaiian Air sets Manila start
Hawaiian Airlines
is pushing back the start date for its Honolulu to Manila service from March to April 14.
The carrier, which announced the new route in August, will offer four 10-hour flights a week for the 4,800 nautical-mile trip to the Philippines. It is Hawaiian's first foray into Asia.
The flight will depart Honolulu on Sundays, Mondays, Wednesdays and Fridays at 12:30 p.m. and arrive at Ninoy Aquino International Airport in Manila at 5:15 p.m. the following day. Return flights will depart Manila on Mondays, Tuesdays, Thursdays and Saturdays at 7 p.m., arriving in Honolulu the same day at 11:15 a.m. Roundtrip fares start at $848.
Isle freight firm buys warehouse
Aloha Freight Forwarders
has acquired an 83,527-square-foot building in Compton, Calif., near the ports of Long Beach and Los Angeles.
The Los Angeles-based company that has specialized in freight services between Hawaii and the mainland for more than 50 years had been the previous tenant of the building, which was sold by Oakmont Industrial Group.
Terms of the transaction weren't disclosed. Aloha Freight Forwarders has been leasing the facility since November 2005. Oakmont purchased the 4.6-acre site in October 2004.
Brief case
LIFTING SPIRITS.
Constellation Brands Inc. said its third-quarter profit rose 11 percent, lifted by strong liquor sales, the rebound of its wine business in North America and the acquisition of Svedka vodka.
INDIAN EXPANSION. Ford Motor Co. will double production in India with a $500 million investment and begin making an inexpensive car, the U.S. automaker said yesterday, attempting to boost market share in a booming economy.
AVON SHADES OF PINK. Avon Products Inc. said it will cut 2,400 jobs as part of its multiyear restructuring plan, which will cost more than originally expected and ultimately save the beauty-products maker $430 million annually.
New hires / Promotions
» Griffith Construction Consultants has hired
Chuck Nepps
to its project management team. He previously served as project manager for Crescent Heights on the Ko'olani Condominium and Spa project and has 15 years contracting experience in Hawaii and California.
» Xerox Hawaii has hired Steven Fukuda as marketing representative. He will be responsible for the sales and marketing territories covering Windward Oahu, upper Kalihi, Liliha, Makiki and Manoa. He previously served as general manager for Special Dreams Inc.
» Century 21 All Islands Real Estate has hired Ken Becker as marketing director. He will oversee direct marketing for the company's 14 offices in Oahu, Maui, Kauai and the Big Island. He has extensive experience in the real estate advertising industry in Hawaii and the mainland.
» Starwood Hotels & Resorts Hawaii has named Lindsay Forman as leisure sales manager for the Westin Princeville Ocean Resort Villas opening in April 2008. She previously served as a sales and marketing management trainee at Princeville Resort.
Board of directors
» The Aloha Society of Association Executives has elected its officers and directors for 2008: Board of directors are
Roberta Cullen
, president;
Carol Pregill
, president-elect;
Cynthia Hayakawa
, secretary; and
Dennis Tanimoto
, treasurer. Other board members include
Paula Arcena
,
Mark Beede
,
Kathy Castillo
,
Kippen de Alba Chu
,
Gail Glushenko
,
Barbara Kono
,
Tim Lyons
,
Charlene Nakamura
and
Karen Nakamura
.
» The Hawai'i Council for the Humanities has announced the following new appointments to its 2008 board: Warren Nishimoto, board chair; Carol Fox, vice-chair; and Saundra Schwartz, secretary-treasurer. Other new board members elected are Anne McKenna and Linda Menton.
Awards
» Attorneys from
Case Lombardi & Pettit
have been recognized by The Best Lawyers in America 2008, Chambers USA: America's Leading Lawyers for Business, The Client's Guide and Benchmark: Litigation, the Definitive Guide to America's Leading Business Litigation Firms and Attorneys. The publications name the top attorneys in the U.S. as chosen by their clients and peers. The selected attorneys are:
Daniel H. Case
,
Dennis M. Lombardi
,
Ted N. Pettit
,
James M. Cribley
,
Stacey W.E. Foy
,
Gregory M. Hansen
,
Michael R. Marsh
,
Nancy J. Youngren
and
John D. Zalewski
.
---
BUSINESS PULSE