Property crimes rise
FBI releases data for first half of 2007
Property crimes in Honolulu increased 7 percent for the first half of 2007, according to an FBI report released yesterday.
There were 19,731 property crimes in Honolulu in the first six months of 2007, compared with 18,399 in the same period of 2006.
Honolulu's violent-crime rate remained virtually unchanged despite a jump in homicides, the report said. Murders increased to 13 in the first six months of 2007 compared with five in the same period in 2006. There were 17 murders for all of 2006. Honolulu homicide rates have fluctuated over the years, with 15 total for 2005, 26 in 2004 and 15 in 2003.
Violent crime in Honolulu accounted for 1,352 cases in the first half of 2007, compared with 1,357 in 2006's first half.
In Honolulu, rape cases rose 16 percent, aggravated assault was down 8 percent and robbery was up 7 percent.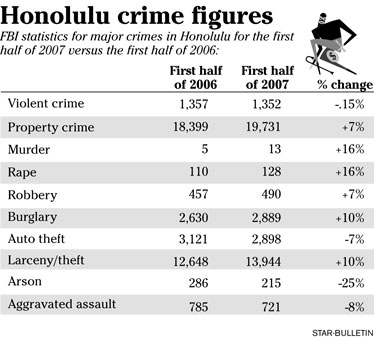 "Any increase in violent crime is concerning for those of us in the law enforcement community," said FBI Special-Agent-in-Charge Janet Kamerman. "With that being said, it is also important to keep these statistics in perspective. Hawaii remains a very safe place to live compared to similarly sized jurisdictions across the country.
"Nevertheless, we will continue to work with our local, state and federal partners to decrease future violent criminal activity and apprehend and prosecute those individuals who have already committed these types of crimes."
Among property crimes, burglaries increased by 9 percent, theft went up 10 percent, car theft fell 7 percent and arson dropped 24 percent.
Nationwide, crime dipped slightly for the first half of 2007, the FBI reported, signaling a stop to a two-year increase in violence nationwide.
Nationwide violent crime -- including murders, rapes and robberies -- dropped by 1.8 percent between January and June last year, the FBI's preliminary data show. Property crimes also decreased, including a 7.4 percent drop in car thefts and arsons by nearly 10 percent.
But violent crime appears to be rising, if slightly, in small cities and rural areas, the data shows.
The FBI data, compiled from local and state police departments around the nation, offer a snapshot of crime rates over the six-month period. The numbers will not be finalized until later this year.
Still, the data appears to end two years of rising violent-crime rates, which increased by 2.3 percent in 2005 and 1.9 percent in 2006.
"The latest numbers from the FBI are encouraging," Justice Department spokesman Peter Carr said. "The report suggests that violent crime remains near historic low levels."
The Associated Press contributed to this report.