| | |
| --- | --- |
| | Newswatch |
---
Medical school picks new dean
An administrator at the Oregon Health and Science University School of Medicine in Portland is expected to become the new dean of the University of Hawaii's John A. Burns School of Medicine.
Dr. Jerris R. Hedges will start in March under a three-year contract. His appointment is pending approval by the UH Board of Regents next week.
Hedges serves as vice dean at OHSU, Oregon's only health research university, which has an annual budget of $1.8 billion.
Hedges helped create the Center for Policy & Research in Emergency Medicine, which was recognized by the National Institutes of Health as one of the top 10 research grant-supported academic departments of emergency medicine, UH said in a news release.
He is a member of the National Academy of Sciences' Institute of Medicine, has served as president of two emergency medicine organizations and holds a master's in chemical engineering and a master's in medical management.
He has also co-authored several books and founded a journal on academic emergency medicine.
Hedges graduated from the University of Washington School of Medicine in 1976. He is married and has two grown children.
The medical school has been without a permanent dean since 2005 when Dr. Edwin Cadman resigned for health reasons.
Hannemann remakes Cabinet
Honolulu Mayor Mufi Hannemann is shaking up his Cabinet for 2008.
Chief Engineer and Department of Facilities Maintenance Director Laverne Higa asked to return to her civil service job in the Department of Design and Construction, Hannemann said.
Craig Nishimura, deputy director of the Department of Design and Construction, will replace her.
Russell Takara, senior Army program manager for the U.S. Army Corps of Engineers' Pacific Ocean Division, will take Nishimura's place.
Also, Mark Oto, senior adviser of the Department of Community Services, will fill the vacant deputy director position in the Department of Budget and Finance.
Ernest Martin, who directs the Department of Community Services' Office of Special Projects, will take Oto's place.
And Department of Parks and Recreation Deputy Director Dana Takahara-Dias will switch jobs with Department of Enterprise Services Deputy Director Gail Haraguchi.
Hannemann said he also asked Higa to be his liaison with Oahu's Okinawan community. Higa is a past president of the Hawaii United Okinawa Association.
Takara and Nishimura will assume their new jobs March 1. The rest of the appointments will take effect Jan. 16.
Dental training program expands
Students at Maui Community College will be able to receive a two-year degree in dental hygiene, the University of Hawaii said in a news release.
A new Associate in Science in Dental Hygiene program prepares students to become dental hygienists.
Maui Community College already offers a certificate in dental assisting which received accreditation from the American Dental Association in last January.
| | |
| --- | --- |
| | Police, Fire, Courts |
---
18-WHEELER CRASHES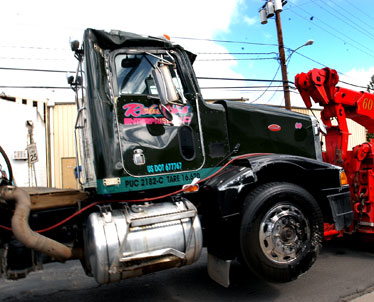 Suspect flees across H-2 freeway
A man eluded Honolulu police last night by running across eight lanes of the H-2 freeway, police said.
At about 8:30 p.m. a police motorcycle officer pulled a car over for a traffic violation on the northbound lanes of H-2 near the Ka Uka Boulevard offramp, police said.
The driver, who was wanted for a warrant, ran off in the Ewa direction across traffic, said police Sgt. Renold Itomura. A police helicopter searched for the suspect until about 9 p.m.
NEIGHBOR ISLANDS
Teen dies after being hit by car
HILO » A teenage boy crossing Volcano Highway at Keaau, south of Hilo, died after being hit by a car just after midnight yesterday, police said.
The victim was identified as Kaipo L. Sioloa, 16, of Keaau. He was taken to Hilo Medical Center where he died at 8:35 a.m., police said.
The speed of the car was not a factor, but Sioloa had consumed alcohol before he was hit, they said.
The accident happened uphill from the center of Keaau village. Sioloa was crossing the highway toward Keaau. There is no crosswalk there.
Sioloa was hit by a 1990 Toyota sedan driven by a 19-year-old Keaau man, police said. The driver was not injured.
A negligent-homicide investigation was opened, which is standard procedure.
This was the first traffic fatality of the year on the Big Island, compared with none at the same time last year.
Girl is accused of stabbing man
ANAHOLA, Kauai » A 17-year-old girl was arrested for second-degree assault Wednesday after she allegedly stabbed a 45-year-old Anahola man in his left arm.
The man was treated at the scene but refused further medical treatment.
According to witnesses, an argument broke out at the victim's house between the juvenile and the victim at around 1 p.m. The juvenile then pulled out a knife, stabbed the man and fled the scene.
She was arrested by police at Hanamaulu Beach Park a few hours later. She was remanded to the custody of Family Court for detainment.
LEEWARD OAHU
Police charge man in bank robbery
Authorities charged a 38-year-old man yesterday with four counts of bank robbery for allegedly robbing a McCully bank.
Cleveland Ellis is being held without bail.
Police said the man had entered the bank at 10:25 a.m. Wednesday and allegedly handed the teller a demand note.
The teller complied and handed the suspect an undisclosed amount of cash, police said.
Police arrested Ellis at 10:45 p.m. Wednesday in downtown as he tried to flee from officers, police said.
Ellis' description is similar to a suspect in a robbery Monday at the First Hawaiian Bank downtown, and police are investigating whether he was also involved in that case.
Man is arrested in Waianae heist
Honolulu police arrested one man Thursday and are searching for three other suspects who allegedly pretended to be Drug Enforcement Agency agents to enter and rob a Waianae home on Nov. 27.
The robbery happened at about 1:50 a.m., when the four suspects, wearing DEA attire and carrying handguns, raided the house and took a safe and other personal items, police said. Family members were home at the time.
Witnesses identified the suspects, police said. A 29-year-old suspect was located at Oahu Correctional Community Center, where he was being held for other offenses, and was arrested Thursday on suspicion of first-degree robbery.
The three other suspects -- ages 24, 25 and 30 -- are still at large.