---
FAST FACTS HAWAII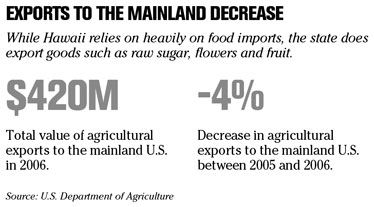 ---
American Apparel plans isle store
American Apparel, a controversial maker and retailer of T-shirts and casual apparel, has revealed plans for its first Hawaii store.
DHHL developer files bankruptcy
The plight of dozens of families awaiting homes on state Department of Hawaiian Home Lands grew more complicated this week, when the owners of two contracting firms filed for personal bankruptcy. » C2
Rule targets foreign-flag liners
Cruises from California to Hawaii will have to spend at least two days in Mexico if they want to stay in service, according to a proposed federal rule covering foreign-flagged liners.
Vera Wang boutique to close
The
Vera Wang Boutique
at the Halekulani expects to close by the end of the month. Owner Donna Bebber, who has a licensing agreement with the
Vera Wang
company, said sales went south after the renowned designer opted last year to do away with her fine jewelry line.
"That the largest part of our revenue," she said. "It was very popular, very beautiful."
The boutique opened two years ago. Bebber still has three more years left on her lease at the Halekulani and is hoping to stay there with another concept.
In the meantime, it is holding a closeout sale starting tomorrow, with all items between 40 to 60 percent off.
NATION
Mesa gets Nasdaq warning
PHOENIX, Ariz. »
Mesa Air Group Inc.
, which has delayed the filing of financial results, said it may be delisted by the
Nasdaq Stock Market
.
Mesa, which operates the interisland carrier go! in Hawaii as well as regional flights for several national airlines, said it plans to ask for a hearing on whether it no longer meets regulatory filing requirements to keep its shares' Nasdaq listing.
At issue is Mesa's annual report for the year ended Sept. 30. Mesa said Dec. 27 it would delay the results while reviewing "certain estimates and reserves" and accounting for discontinuing its Air Midwest Inc. unit. Mesa said it should file its report by Jan. 15.
Warner Bros. goes Blu-ray
LOS ANGELES » Warner Bros. Entertainment said yesterday it will release movie discs only in the Blu-ray format, becoming the latest studio to reject the rival HD DVD technology and further complicating the high-definition landscape for consumers.
Warner Bros., owned by Time Warner Inc., was the only remaining studio releasing high-definition DVDs in both formats. It is the fifth studio to back Blu-ray, developed by Sony Corp. Only two support the HD DVD format, developed by Toshiba Corp.
Microsoft gives gamers a freebie
SEATTLE »
Microsoft Corp.
said it will give Xbox 360 owners a free video game to make up for poor performance over the holidays by the system's online hub.
Video game blogs such as Joystiq recently reported that users had a slew of problems with the site over the holidays, including trouble signing in, downloading media and getting matched with online opponents.
The company said record-breaking traffic and new-member sign-ups caused the "intermittent Xbox Live issues." The company said it will give a free Xbox Live Arcade game, but did not say which, or when.
---
BUSINESS PULSE