Hawaii football, Michelle Wie expected to dominate headlines in the new year
Hawaii football
The magic carpet ride that is Warrior football ends today in New Orleans. Win or lose, Hawaii will be hard-pressed to match the excitement and excellence of the 2007 season this coming fall ... if ever.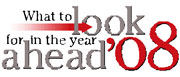 Many questions will need answers between now and the Aug. 30 kickoff at "The Swamp" when Hawaii opens at Florida. The most pressing are:
» Will coach June Jones fend off college and pro suitors to return for a 10th season? His contract expires in June;
» and will it be senior Tyler Graunke running the show full-time? He played well when replacing the injured Colt Brennan, leading Hawaii to wins over Utah State and Nevada. But Heisman finalist Brennan will be a tough act to follow.
Of all the records set in 2007, another could go down in April, when the NFL Draft takes place. Last year, Hawaii had a program-best five players drafted.
Sugar Bowl money
Much has been made of Hawaii's shoe-string athletic budget, including it being called peanuts compared to the largess at Georgia, today's Sugar Bowl opponent.
Regardless of the outcome against the Bulldogs, this will be the biggest payday for the university ... ever.
But of the $17 million payout, Hawaii will see only about $4.5 million of that and -- after expenses -- is expected to net around $2 million.
Athletic director Herman Frazier and UH-Manoa Chancellor Virginia Hinshaw will meet after the game to decide how to spend the money the university takes in from the Sugar Bowl.
Some of it is expected to go toward bonuses for coach June Jones and his staff. As mentioned above, Jones -- the lowest-paid coach in a BCS bowl this season -- is in the final year of his contract.
The athletic facilities on lower campus need upgrades But the buildings on upper campus need help as well.
One thing for sure, the athletic budget will be in the black.
Michelle Wie
After a disastrous season where she pretty much hit rock-bottom, there's only one way for Michelle Wie to go ... up.
The plan this year is to concentrate on getting her game and her confidence back. That includes not playing in any men's events and likely skipping the spring quarter at Stanford, where she is currently a freshman.
Last year, Wie missed two months of competition because of an injured wrist and has acknowledged she wasn't healthy enough to play. In eight LPGA events, she missed three cuts, withdrew twice, finished last among those to make the cut twice and next to the last in the other.
The wrist is better. Her swing coach David Leadbetter says she's having fun again.
But her marketability and credibility took a hit last year. It likely will take more than a few successful rounds to get the former teen phenom back on course.