What's great in '08
February and March bring two rock acts back to town after long absences.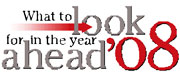 First, the Police, who haven't been here since a 1984 show in Aloha Stadium. OK, that's largely because the band broke up.
Sting, Andy Summers and Stewart Copeland reunited last year and are on a world tour with their unique mix of reggae, jazz and rock. Tickets to the Feb. 16 Blaisdell Arena show sold in out in two hours. A second show has been added for Feb. 17.
On March 21, Incubus plays the Shell. More than a decade ago, when there was little to separate Incubus from any of its SoCal nü-metal, rap, funk and punk brethren, the band was a frequent presence on Hawaii stages.
That changed in 2001, with the release of "Morning View," when the band showed a poetic side and suddenly had other places to take their music.
Now the boys -- Brandon Boyd, Mike Einziger, Jose Pasillas, Chris Kilmore and Ben Kenney -- return. All we want to ask is, What took you so long?
Nordstrom hyped for grand opening
In all the anticipation of Nordstrom's opening day, March 7, we tend to forget the retailer has had a 40-year presence in the islands, beginning with running the shoe department at Liberty House, which led to a shoe store at Ward Centre, following by the opening of Nordstrom Rack at Ward Entertainment Center.
They've been studying us all this time. A spokesman for the company says to expect a shopping experience mirroring the way people dress, combining inexpensive daily apparel with luxurious accent pieces and accessories.
A grand opening benefit March 5 will feature a full runway show. Tickets are $150, available at the Hawaii Theatre box office.
Whole Foods spurs excitement, fear
The announcement that Whole Foods, the nation's largest natural-foods chain, would open in Hawaii this spring had foodies all atwitter. They've seen Whole Foods' big, glowing markets on the mainland, walked the aisles of international gourmet items, sampled from the huge bins of cheeses, carried away the upscale prepared foods.
Whole Foods' first market here will be in Kahala Mall, and the company has signed on several local organic produce growers and seafood suppliers.
It hasn't been an all-open-arms reception, though. There's concern about how this major player will affect Hawaii's small natural-foods co-ops. And Whole Foods' plan to open a second store at Ward Villages has been set back several times by the discovery of ancient Hawaiian bones at the construction site.