What to look for in 2008
Tourism, transportation expected to dominate the coming year
SUPERFERRY
It's time for the
Hawaii Superferry
to fish or cut bait. After spending months of its debut year grappling with political and legal concerns, the Superferry must now prove itself a viable and reliable business in the cold waters of the marketplace.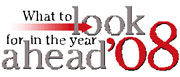 Not only has the Superferry started and stopped twice -- once due to court order and the other time because of ocean conditions -- but it has limited service to Maui for now because of protester unrest it faced on Kauai in late August.
John Garibaldi, president and chief executive of the Superferry, said he wants the 349-foot Alakai to return to Kauai as soon as the company can be assured that it will be safe, but can't say when that will be. In the meantime, Garibaldi concedes that the company is losing money with just the Maui service, but adds that he and his investors are looking at the Superferry on a long-term basis.
ECONOMY
Visitor numbers are slipping, inflation remains high and bankruptcies are climbing. That's the bad news. But those visitors are spending slightly more, inflation is off its peak, and even the increased number of bankruptcies is the second-lowest in the last decade. And so far the mainland subprime mortgage crisis has had little more impact here than a California brushfire.
Still, with tourism from Japan continuing down -- and no other nation likely to send visitors in equal numbers or per-person spending anytime soon -- Hawaii's dependence on the mainland is greater than it has been in years.
And it is the mainland, where fallout persists from the subprime crisis, that contains perhaps the biggest threat to Hawaii's economy.
If would-be vacationers are deterred by oil-driven increases in airfares, room rates and other prices, or if local mortgage resets push too many isle residents beyond their budgets, then California's economic problems could become ours very quickly.
AIR WARS
This may be the year when the question is answered about whether this market can support three main carriers.
Hawaiian Airlines, fresh off a favorable $80 million court judgment against rival Mesa Air Group, appears to be in the best position with a net gain of $3.7 million through the first nine months of 2007 and first-time Asia service set to begin in March to Manila. Only union contract talks with its unions threaten to cause turbulence.
The other longtime incumbent, Aloha Airlines, has its own lawsuit against Mesa scheduled to begin in October. Aloha's owner, billionaire Ron Burkle of Yucaipa Cos., has deep pockets, but will he stay with an airline that has lost money for 16 straight quarters and has dropped $58.1 million through the first nine months of this year?
Mesa, the operator of interisland carrier go!, has challenges of its own.
Critics have questioned the logic of go!'s Hawaii operation and whether Mesa wants to risk dragging down the company at the risk of proving that it can stick it out here.
Last month, Mesa twice delayed its latest earnings release while announcing it will record a net loss in fiscal 2007.