TOP 10 STORIES OF '07
UH's illustrious season is '07's top story
1. Hawaii football season: The 10th-ranked Warriors (12-0) take on Georgia in tomorrow's Sugar Bowl, just the third time a team from a non-BCS conference is in a BCS bowl game.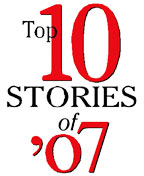 The path to New Orleans includes the first outright Western Athletic Conference championship (8-0) and several emotional comeback wins, including the 35-28 victory over Washington on Dec, 1 after Hawaii trailed by as many as 21 points.
2. Colt Brennan third in Heisman voting: The quarterback makes an emotional decision Jan. 18, withdrawing from the NFL Draft to stay for his senior season. Despite missing nearly two full games (injury and concussion) he becomes the Football Bowl Subdivision's career record holder with 131 touchdown passes as well as Hawaii's first Heisman finalist, finishing third in the national voting.
3. JV QB leads Leilehua to OIA, state championships: Behind 15-year-old sophomore Andrew Manley, a quarterback called up from the junior varsity five weeks before the state title game, Leilehua wins its first state football championship in 23 years by upsetting top-seeded and previously undefeated Saint Louis 20-16 for the Division I title.
4. Tadd Fujikawa makes Sony cut: The 16-year-old Moanalua High sophomore becomes the second-youngest golfer to make a PGA Tour event cut and the youngest at the Sony Open in Hawaii. He makes his pro debut in the Reno-Tahoe Open in July.
5. UH football schedule fiasco: After many fumbles -- and promises of a 13-game schedule -- UH athletic director Herman Frazier finally releases a 12-game schedule on June 6 that includes two I-AA teams.
6. New era for Hawaii basketball: Lame-duck coach Riley Wallace finishes his 20th season, and -- six weeks after a national search -- associate head coach Bob Nash is hired as his replacement.
7. Wahine softball super: The 12th-ranked Hawaii softball team (50-13) finishes one victory shy of the school record for wins and what would have been its first berth in the Women's College World Series by losing 7-1 at top-seeded Tennessee in the decisive third game of the NCAA Super Regional.
8. Kaimuki upsets Punahou for state boys basketball title: The second-seeded Bulldogs beat the top-seeded Buffanblu 61-53 for the Division I title in a tournament in which five-time defending champion Iolani finishes fifth.
9. Wie's struggles continue: Off the course, Michelle Wie graduates from Punahou and begins her college life at Stanford. On the course, she gets failing marks while struggling with a wrist injury. In eight LPGA appearances, Wie misses the cut three times, withdraws twice and posts under-par rounds only twice.
10. Jordon Dizon first-team All-American: The '04 Waimea High graduate is named to the first team of two All-America squads (Associated Press and Walter Camp). The Big 12 defensive player of the year is one of three finalists for the Butkus Award, which goes to the nation's top linebacker.