TOP 10 STORIES OF '07
Best of times, saddest of times
1. Roar! It was the Year of the Boar in China, but in Honolulu it was the Year of "The Lion King."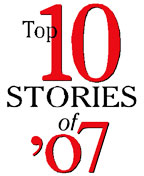 The Disney animated film that became a celebrated stage musical -- thanks largely to the outsize talents of director/designer/puppeteer/genius Julie Taymor -- simply dominated everything else, from elbowing the Honolulu Symphony Orchestra out of Blaisdell Concert Hall to being the most talked-about, must-see show of the season. And, oh yeah, it was also an amazing, memorable experience. For local dancer Charlaine Katsuyoshi, it was a chance to become a Cheetah Girl.
2. Aloha, Don. When Don Ho died in April at age 76, it seemed like the lights dimmed all over Waikiki, in smoky little bars where music endlessly played the soundtrack of romance, where the night life was the good life. Ho, who drifted into music after being an Air Force pilot, became the soul and voice of a modern, jazz-influenced Hawaiian culture, equally welcomed in melting-pot cultures. After influencing generations of hopeful musicians and kissing millions of female tourists, big-hearted Donald Tai Loy Ho ironically died of heart failure.
3. Hammers, Nails, Remote Control.
The "Extreme Makeover" ABC reality show, in which a deserving family gets its home rehabilitated by expert carpenters and designers, set up their chop saws and camera tripods at the Kalihi home of the Akana clan. It was the 100th home rebuilt by the show. The Akanas were astonished and moved by the effort on their behalf, and the rest of us were astonished by the rather high income level that still qualified the lucky family as needy.
4. Muzzle That Dog! Big bad bounty hunter Duane "Dog" Chapman shot off his mouth whilst yammering at his estranged son on the phone. So what? Junior Dog taped the call and sold it to the tabloids, providing audio evidence that the Dog uses a no-no word for black people. Before you could say "bad dog!" Chapman was tearfully apologizing to anyone who would listen.
5. Hot Licks.
Gwen Stefani, the Shins, Wu Tang Clan, Bonnie Raitt and My Chemical Romance stoked the concert fires and left us hungry for more.
6. Once Upon One Time, a tragedy. Playwright, actress and genuinely fun person Lisa Matsumoto died in a traffic accident that was both appallingly random and soberingly sudden.
7. Big 'n' Tasty. Celebrity chefdom has become the new sexy high-profile power position, and -- accordingly -- Pacific Rim devotees flock to restaurants that -- alas! -- do not include mac salad and your choice of starch. Celebrichef Nobu Matsuhisa opened a bistro in Waikiki, aptly named it Nobu Waikiki and swelled the ranks of other major restaurant openings. We're talking Roy's Waikiki, Mavro's Cassis, Elua (Philippe Padovani and Donato Loperfido). And hey, Senor Frog's and the Yardhouse ushered national chains into the club scene. Does this mean that Spaghetti Factory isn't as sizzlingly hip as it once was?
8. Miles of Aisles.
The Honolulu Design Center is that big wavy building on Kapiolani Boulevard, and within it, furniture buffs can hike for hours among the mostly high-end wares. The Cupola Theatre and Stage restaurant within the center expand its purpose beyond home furnishings.
9. Last Call. Citizens lined up for seconds as more old-time beloved eateries shuttered, including Masu's Massive Plate Lunch, Shung Chong Yuein pastry shop in Chinatown, Kwong On bakery in Kaimuki and a couple of TGI Friday's locations.
10. Hair Today, Gone Tomorrow.
Oh, what or who captured our attention during the last year, and what or who was on everyone's lips, and what or who is now a topic as seemingly ancient as the pyramids? Who rode the gleaming rocket of celebrity among the stars, only to be lost in the black, yawning vastness of space? The last word of the subject shall be: Sanjaya.