TOP 10 STORIES OF '07
Isle forces battled by sea and by air
1. Superfiasco: It was supposed to revolutionize the interisland transportation business, but this year the Hawaii Superferry ended up making more waves in court and at the Legislature than at sea.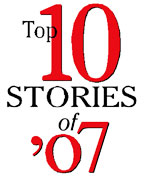 And even after the political storms cleared, rough seas of the maritime variety prevented the Alakai from making some of its runs. But the 349-foot vessel retains its potential as an interisland game-changer.
2. Air wars, court battles: Mesa Air Group's go!, having showed that it could make rivals Hawaiian and Aloha dance to its fare-setting tune, had a tougher time facing the music in court. The first of two lawsuits filed over circumstances of its entry into the Hawaii market resulted in a $80 million judgment against it. Mesa has vowed to fight the ruling, but the effort will be costly, and it has acknowledged that it will post a loss for the fiscal year.
3. Beyond counting heads: Tourism officials acknowledged that 2006 would be hard to beat in terms of traffic, but said that the local industry's trend toward upscale renovation would shore up the industry's financials. The numbers since then have borne that out: Traffic is down slightly overall, with the high-spending Japanese visitors more scarce than ever, but expenditures have held steady.
4. Pricier paradise: Inflation in Honolulu was running at 5.0 percent in the first half of this year. While that represented an improvement from the 5.8 percent peak in 2006, it remained more than double the national rate. Forecasts call for the local inflation rate to ease further, but given the soaring costs of fuel in 2007, any improvement in the second half won't be dramatic.
5. What housing plunge?
While many mainland real estate markets spent much of 2007 in free fall, prices in Hawaii proved quite capable of defying gravity. The number of transactions did drop, but most months saw median prices equaling or even exceeding 2006 levels. The only cloud on the horizon was an increase in rate resets for adjustable-rate mortgages, but any adverse effects of that seemed likely to slide into 2008.
6. Ancestors' reckoning: When General Growth Properties discovered 11 sets of native Hawaiian remains, or iwi, on the site of its Ward Village Shops redevelopment project in 2006, it was only the beginning. As the number of iwi discoveries grew, it took most of 2007 for the company to get the green light to resume construction, and a lawsuit remains pending.
7. New retailing faces: Hawaii's high prices and scarce store space were no deterrent to many national retail chains, with announcements or openings from industry mainstays Walgreen Co. and Target Corp. Whole Foods Market chose Kahala for its first Hawaii store, and other expressions of interest came from name brands including Victoria's Secret, H&M, Pottery Barn and Panera Bread.
8. Eye on health care -- again: A year of increasingly expensive health insurance was too much for state lawmakers, who voted to restore the rate oversight they had let had lapse the year before. Both HMSA and Kaiser subsequently announced rate hikes, although in the latter case the increase was the smallest in nearly a decade.
9 Historic cannery closes: 2007 spelled the end for pineapple canning in Hawaii, as Maui Land & Pineapple Co. decided to close its money-losing Kahului operation, the last of its kind in the nation. But MLP's move didn't signal the end of Hawaii pineapple, as the company is plowing millions of dollars into the fresh fruit, under the name Maui Gold.
10 Hoku's wild ride: Hoku Scientific began 2007 in the middle of a risky transition from fuel-cell developer to maker of materials for solar panels. But its timing proved impeccable, as the solar-energy boom led panel makers to line up to buy polysilicon from an Idaho plant that isn't even built. Hoku ends the year with some $1.5 billion in purchase contracts from four buyers.