Salt pond in trouble
Kauai salt-makers lobby for help to preserve a tradition
HANAPEPE, Kauai » Garden Isle salt-makers say development surrounding salt patches in Hanapepe threatens the quality and quantity of their product -- and a Hawaiian tradition.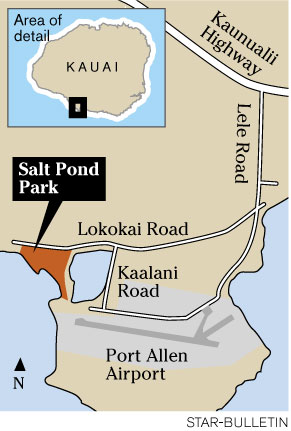 Hanapepe is home to the state's only natural salt ponds still used to make sea salt in the same fashion as ancient Hawaiians.
But salt-maker Kuulei Santos says an area between a nearby parking lot and beach was filled with old asphalt, disrupting the drainage of water to the beds.
"There's so much development going on around here that it's affecting the salt," said Santos, who is carrying on a family salt-making tradition.
Other problems include development at the neighboring Port Allen airport, erosion of Kaalani Road running alongside the ponds and mud flowing downhill from the cane fields during the rainy season.
Though listed on the State Historic Preservation Register, there are no physical structures protecting the low-lying area from the activity around it.
The salt is made from water that travels underground into wells about 4 feet deep. The salt makers transfer the water into beds made from black clay. The beds are about 4 feet by 3 feet and sun-baked. When the water crystallizes it forms salt.
State Rep. Roland Sagum (D, Niihau-Poipu-Kokee) met this week with more than two dozen residents concerned with the state of the ponds. He brought leaders of the House Water, Land, Ocean Resources & Hawaiian Affairs Committee with him so they could learn about the issue.
Last year Sagum proposed an unsuccessful resolution to convene a group of interested parties to look into ways to protect the area's resources.
The measure didn't materialize, but Sagum is interested in reviving it next year.
Many in attendance said they wanted action, not talk.
But the legislators stressed that a committee would have to start the slow process of identifying the problems as well as the solutions -- and more importantly, documenting and legitimizing the anecdotal evidence.
"I hate to say this, but it's going to take some time," said committee Vice Chairman Pono Chong (D, Maunawili-Kaneohe). "You have to educate 76 people in the Legislature to get it done."