---
MOANALUA MAKES HAY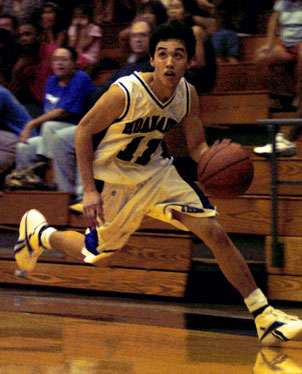 Pro Bowl staying here through '09
The NFL has decided the Pro Bowl will be played in Hawaii in 2009.
Under the current contract, the league could have moved the game to a different city in 2009, so long as the game returned to Hawaii in 2010.
Mayor Mufi Hannemann announced yesterday that the NFL's postseason all-star game was staying put.
"I'm pleased to report that in discussions I had this morning with the National Football League, the game will be played in 2009 in Honolulu, Hawaii," Hannemann said at a news conference.
Hannemann said the game is important to the state's visitor industry because it draws 20,000 visitors to Hawaii. The state's contract with the NFL runs through the 2009 game.
The Pro Bowl has sold out every year since it moved to the 50,000-seat Aloha Stadium in 1980. The 2008 game is slated for Feb. 10.
Punahou stuns Bishop Gorman
While Iolani bounced back in Tennessee, Punahou made some noise of its own last night.
The No. 1 team in the Star-Bulletin Boys Basketball Top 10 stunned Bishop Gorman (Nev.) 60-52 in the semifinals of the St. Francis Merv Lopes Classic. Kameron Steinhoff and Manti Te'o led the way with 14 points each.
The Buffanblu will face another mainland powerhouse, Our Lady of Good Counsel (Md.) in a 7 p.m. final.
Iolani topped Sullivan East (Tenn.) at the Arby's Classic in Bristol, Tenn. Pablo Warner led the Raiders, No. 2 in the Star-Bulletin Top 10, with 18 points, and Taylor Mounts had 13 points to go with nine boards.