Ferry speed called key to collisions with whales
STORY SUMMARY »
As humpback whales arrive in greater numbers for their winter breeding season, concerns rise commensurately about collisions with boats, including the Hawaii Superferry.
A worldwide study of the problem confirms that collisions are a greater risk when vessels are moving fast.
Almost half of 24 documented collisions between whales and ferries over a 30-year period involved fast ferries, researcher Mason Weinrich reported in 2004 to the International Whaling Commission's Scientific Committee.
His findings:
» 11 collisions involved ferries that travel 35 mph or faster.
» Six were with slower ferries.
» Seven were at unknown speeds.
Those statistics come from 1972-2002, but fast ferries were not in use until 1996, said David Mattila, science and rescue coordinator for the Hawaiian Islands Humpback Whale National Marine Sanctuary.
With the Hawaii Superferry's Dec. 13 start, state waters become another location where humans will seek a balance between moving people quickly by boat and dodging the leviathans.
STAR-BULLETIN
---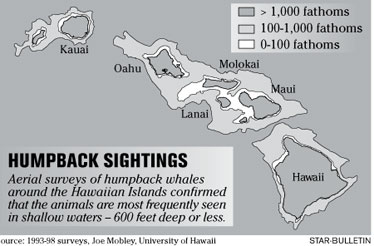 ---
FULL STORY »
Full-time lookouts on a Massachusetts Bay high-speed ferry appear to have helped it avoid hitting whales during its first five years of operation.
Between 2002 and 2006, the Boston Harbor Cruises ferry between Boston and Cape Cod saw whales on four out of 10 trips but never hit one, according to a report co-authored by Mason Weinrich, a zoologist and executive director of the Whale Center of New England.
Avoid Moby-Dick
Maui boaters interested in another whale strike avoidance workshop can contact Jeff Walters, state co-manager of the Hawaii whale sanctuary, at 587-0106 or jeffrey.s.walters@hawaii.gov. Suggestions on whale avoidance are also posted at:

» hawaiihumpbackwhale.noaa.gov
The Alakai's Effort
Superferry policies for whale avoidance, some of which are required by the state as a condition of its operation without an environmental impact study, include:

» Avoiding shallow (600 feet or less) waters favored by whales, unless ocean conditions require it. This includes the whale sanctuary.

» Slowing to 29 mph in those shallow waters.

» Posting two full-time observers on the boat, whose job is to watch for whales.

» Having motion-reduction binoculars, night-vision equipment and video surveillance to help look for whales.

» Changing course to avoid a whale in its path or making emergency stops if necessary.
During the same time, another fast ferry that did not employ dedicated whale watchers did strike a whale on the same route, Weinrich said.
In its first eight days of service this month, the Hawaii Superferry already is spotting more whales than that -- an average of 10 to 12 per Oahu-to-Maui round trip, said Terry O'Halloran, Superferry director of business development.
The Superferry has two full-time lookouts.
All those sightings were at distances well beyond the 100 yards that triggers a report to state and federal officials, O'Halloran said. And the Superferry has been able to change course and avoid the whales.
But most of the 10,000 humpbacks expected in Hawaiian waters this winter are not here yet.
The endangered humpbacks come to the warm, shallow waters off Hawaii between November and April each year to mate and bear their young.
With its ability to go 44 mph (38 knots), the Superferry's potential danger to whales was among the issues that sparked legal and public protests. A law passed by a special session of the Legislature allows the ferry to run while conducting an environmental impact study.
"Posted observers is certainly one of the strategies that could work to address vessel-whale interaction," said Naomi McIntosh, manager of the Hawaiian Islands Humpback Whale National Marine Sanctuary. But it should not be the only thing, she said.
Whale-ship strikes have been a rising concern in Hawaii. Seven whales were struck in 2006 and six in 2007, according to sanctuary records.
That compares with 33 strikes involving all types of vessels in 1975-2005, with no more than three strikes in any single year.
The whale sanctuary has urged all boaters to keep speeds under 13 mph when in whale territory. Studies have shown that whales are likely to die of strike injuries when ships are going faster.
Superferry officials have said they will not go slower than 29 mph unless they spot a whale.
Weinrich's study in Massachusetts found that the dedicated observer more often spotted whales before the captain did.
The distance between boat and whale when it is first seen is significant, Weinrich said. It gives both the whale and the boat more time to get out of each other's way.
"What's more important is what to do when the whale is seen," he said. "What is known about strikes when they have taken place on passenger vessels is, as a general rule, whales that are struck are whales that have not been seen. But there is usually another whale around."
Whale Center of New England guidelines advise slowing a boat down when one whale is spotted, until it is clear whether other whales are in the area, Weinrich said.
That advice could be harder to follow in Hawaii, McIntosh said, because young whale calves -- about 13 feet long and 3,000 pounds -- spend much more time near the ocean surface and are harder to spot from a distance.
Even for a large boat, like the 350-foot Superferry, striking a whale is not a welcome experience.
When a fast ferry between South Korea and Japan struck what is believed to have been a whale in May 2005, the engine room flooded, 19 of 170 people aboard were injured and the boat had to be towed for repair, according to the Safety at Sea International Web site.
There are more ferry-whale strikes than are documented, Weinrich said. Some strikes might be with an unknown object that is a whale, and some boat crews and some countries might not put a priority on reporting whale strikes, he said.
For its policies and equipment to avoid whale strikes, the Superferry won praise from Jeff Walters, state whale sanctuary co-manager, Chris Yates, assistant regional administrator of NOAA Fisheries, and McIntosh.
Yet Yates, McIntosh and some environmentalists remain concerned about the Superferry's refusal to slow to recommended speeds.
"This is not just a Superferry issue," Yates said. "It's an issue of all vessels dealing with the fortunate circumstance that we have more and more humpback whales here in Hawaii. With that fortune comes increased responsibility and concern."
Last month the Superferry began consulting with NOAA Fisheries under the Endangered Species Act, Yates said.