Kaiser students' 18.2% gain tops stock pickers
A Kaiser High School tandem that calls itself the Mad Cowz chalked up an 18.24 percent gain to record the best return in the semiannual Hawaii Stock Market Simulation Program.
Twelfth-graders Jason Young and Brent Takaki, who are taught by Karen Kubota, won the Aggressive Division with $118,240 after beginning the 10-week contest with a hypothetical $100,000 portfolio.
They were among 684 teams and 1,757 students from 42 schools participating from schools and organizations across the state.
"It's wonderful to see (all) these students exhibiting healthy investment behavior through proper asset allocation and diversification of their portfolios," said Kristine Castagnaro, executive director of the Hawaii Council on Economic Education, the administrator of the program. "We hope they will use what they've learned when making financial decisions from here on out."
Students on the winning teams received $100 U.S. savings bonds and second-place members received $50 savings bonds. The program was funded by the state Department of Commerce and Consumer Affairs Office of the Securities Commissioner.
Results were recalculated after the end of the competition on Dec. 14 to make sure students met the allocation requirements for their particular division.
Division winners and runners-up, with teachers in parentheses:
» Aggressive Growth Division: 1. Kaiser High School (Karen Kubota), Mad Cowz -- Jason Young, 12th, and Brent Takaki, 12th, $118,240, up 18.24 percent. 2. Kaiser High School (Karen Kubota), Chickenkatsurocks! -- Keoni Lee, 12th, and Joshua Juntilla, 11th, $117,239, up 17.24 percent.
» Growth Division: 1. Campbell High School (Mrs. Reyes), HI209391 -- Shannon Maria, 10th, David Iwata, 10th, Lanihoku Manago, 10th, and Bryson Olivera, 10th, $104,289.22, up 4.29 percent. 2. Kealakehe High School (Joanna Kekuaokalani), T&C -- Tasha Lee, 12th, and Charilou Presiados, 11th, $104,213.25, up 4.21 percent.
» Income/Growth Division: No teams beat the benchmark with the required asset allocation and equity holdings.
» Elementary: 1. Manoa Elementary (Trent Takamiya), The Day Dreamers -- Uapili Lucey, 6th, Micah Maikui, 6th, Connor McKenna, 6th, Owen Daniel, 6th, $108,268.63, up 4.27 percent. 2. Aliamanu Middle School (JoAnne Brinich), Local Surfers -- Jessica Rodriguez, 8th, Kevin Acasio, 8th, and Rodney Kealohi, 8th, $104,217.14, up 4.23 percent.
All team rankings can viewed at www.hawaiisms.com/ranking1.php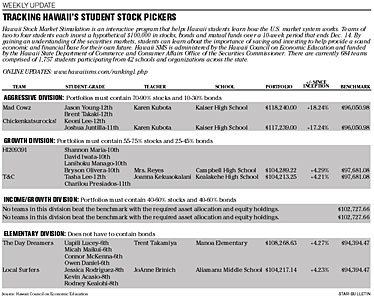 Enlarge view