| | |
| --- | --- |
| | Island Mele |
---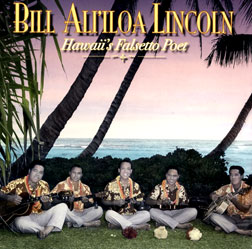 "Hawaii's Falsetto Poet"
Bill Ali'iloa Lincoln
(HanaOla)
Michael Cord and Harry B. Soria Jr. have spent more than a decade reissuing out-of-print Hawaiian recordings on CD. They make another important contribution with this perfect retrospective on the musical career of Bill Lincoln. Cord's commitment to state-of-the-art audio restoration has made HanaOla's catalog the benchmark against which all similar projects are measured, while Soria's encyclopedic knowledge of Territorial-era Hawaiian and hapa-haole music is found in the extensive annotation in almost all the label's releases. This one is no exception, and the duo actually adds a new idea or two as well.
Lincoln's musical legacy is represented by 20 recordings made during several decades for four local labels. The selections include songs that have become island standards; some are originals, others are his arrangements of other writers' works. Lincoln's 1955 vintage recording of "My Yellow Ginger Lei" is one of the best examples of his skill at making another writer's song his own.
Soria contributes a detailed biography that includes plenty of information about the people Lincoln worked with and recorded for over the years. Soria even includes the addresses of Lincoln's hula studio (353 Saratoga Road), the Bill Lincoln Record Shop (304 Lewers St.), and a club where he performed (La Hula Rhumba, at 744 Lunalilo St.).
Kimo Alama Keaulana and R. Keawe Lopes Jr. add value to the project in a separate section that explains some of the kaona (hidden meaning) in Lincoln's lyrics, and mentions places where he added lyrics to other writers' work. Documenting and sharing this information is an essential part of preserving and perpetuating Hawaiian music.
Cord and Soria also do something a bit different by including two versions of two songs -- "Ku'u Lei Liliha" as Lincoln recorded it in 1938 and 1945, and "Moku O Keawe" from 1946 and 1974. These recordings show how Lincoln's approach changed, and also the impact of improvements in studio technology.
Lincoln received the Hawai'i Academy of Recording Arts Lifetime Achievement Award in 2005 and was inducted into the Hawaiian Music Hall of Fame in 2006. This album makes it clear that he was worthy of those honors.
---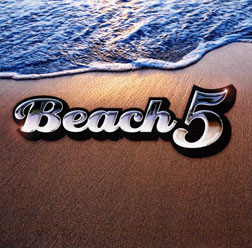 "Beach 5"
Beach 5
(Lemon Road Productions)
The musical legacy of Ho'onu'a is alive and well in the eponymous debut album of Beach 5. Christian Yrizarry and Sani Apuakehau pick up where Yrizarry and Jared Keo left off, and more power to them for making a clean break rather than using the old name.
To avoid any misconceptions, the changes were amicable. Keo decided more than a year ago that he wanted to concentrate on a career outside music. Apuakehau, a solo artist who also performed in the duo's backing band, had been working with Yrizarry on gigs too small for Ho'onu'a to play. They could have exploited the visibility and popularity of Ho'onu'a, but it was cleaner all around to retire the name and start fresh. Yrizarry and Apuakehau then took their sweet time recording "Beach 5." It was time well spent.
Six originals -- two by Apuakehau, three by Yrizarry alone and a fourth by Yrizarry and Tim "Papa T" Troxell -- show that they can write catchy commercial Jawaiian pop. They open strong with the title track and quickly establish themselves as distinct voices. Yrizarry's quick picking on the ukulele adds to the local ambiance.
Two other originals, "Prove My Love" and "The Hawaiian Way," continue the uptempo Jawaiian vibe in convincing style. A third, "Lipstick," shows off Yrizarry's skill as a lyricist on a somber tale of suspicion and doubt as experienced from both sides of a relationship.
"Here Comes the Sun" closes the collection on an introspective note as Yrizarry, Apuakehau and their backing musicians move smoothly from Jawaiian rhythms and show their command of acoustic pop.
---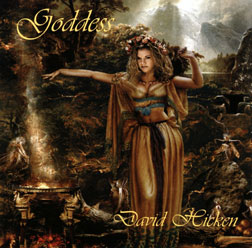 "Goddess"
David Hicken
(Enchanting Music)
Pianist David Hicken offers the perfect antidote to seasonal stress with this collection of exquisite solo recordings. Each melody is named for a different goddess -- Ishtar, Isis and Pele, to name three -- and although there are no apparent cultural markers to differentiate, say, "Kuan Yin" from "Sedna," it really doesn't matter if you're listing to the CD while stuck in rush-hour traffic or shopping-mall gridlock.
Each melody is beautiful, and each fulfills the mission statement found in the liner notes: "... to produce music that provides a sense of reflection, joy, peace, harmony and hope." It's a mission accomplished for Hicken with "Goddess," and that's reason enough to look for his previous recordings.
John Berger
, who has covered the local entertainment scene since 1972, writes reviews of recordings produced by Hawaii artists. See the Star-Bulletin's Today section on Fridays for the latest reviews. Reach John Berger at
jberger@starbulletin.com
.