Primo Beer merchandise ready for gift-giving prime time
THE HOTTEST gift this Christmas isn't an Apple iPhone or Nintendo Wii, at least among beer drinkers in Hawaii. If you really want to blow someone's mind, find a way to get some of the limited-edition
Primo Beer
gear that was given away during last week's launch parties. Nostalgic fans of the brand, as well as those curious about the taste of the brew's new recipe, showed up in droves at Eastside Grill and the Shack Hawaii Kai.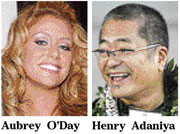 Among those at Eastside was J.J. Weber, who proudly sported a vintage lapel pin while sucking down pitchers with friends.
"When my brother went to Vietnam, he gave it to me," Weber said of the pin. "I've always had it in my truck (as well as) every other car I've ever owned."
The last time Primo made headlines was 1998, when former owner Stroh Brewery Co. shut down operations just shy of the beer's 100th anniversary. Pabst Brewing Co. stepped in during the interim to purchase the brand and recently partnered with Kauai's Keoki Brewing Company to mount a comeback.
Keoki will produce Primo for distribution via draught kegs to approximately 25 local bars; Pabst will also brew and bottle the beer in California. Keep this in mind if you're picky when it comes to drinking something that's supposed to be made in Hawaii.
But how does it taste? Pretty good, actually. It's relatively smooth, without the bite of a Heineken or the watered-down flavor of a Coors Light ...
COLLEGE KIDS have new clubbing options during Christmas Break this year. Tsukiji Fish Market is packing them in on Fridays; you can't go wrong with K-Smooth on the decks and Sean D hosting the party ... After just one week at the International Marketplace, the Starchild DJs and Power 104.3's Micah Banks took their 18-and-over "Fire" weekly back to Lulu's on Saturdays ... And Kochi Restaurant and Lounge is on the come up, launching its late-night offerings on Tuesday with former Hawaii resident DJ Toma and promising more weekend parties in the near future ...
IF YOU haven't yet paid a visit to Hank's Haute Dogs in Kakaako, consider dropping by on Friday or Saturday from 5 to 9 p.m. for "Haute Nights at Hank's."
You can still get favorites like Hank's Frank, a genuine Chicago all-beef weiner with all the fixings, or a Portuguese sausage dog with mustard and grilled onions. But "Haute Nights" introduces additional menu items developed by owner Henry Adaniya, and the shop encourages customers to take advantage of its BYOB policy.
This weekend, try a Truffled Macaroni and Cheese or Chicago Italian Beef hot dog; a $10.50 lobster sausage is also available on Friday as a daily special. Call 532-4265 for more info ...
WEEKEND PICKS: The Loft introduces a new monthly, "Da Remix," on Friday with DJs Matt Ratt and Money alongside live sets by the Malcognitas, Our Distance, Anton Glamb and Alygator. Kudos to Margot Seeto, who applied for a special event liquor license and got approval to sell drinks at the bar ... Artist Groove Network launches "Wonderful" at Zanzabar on Friday, with DJs Ryan Sean, Mike D and Betty spinning in two rooms until 4 a.m. ... Saturday's "Monkey Bar" at the Hyatt Regency Waikiki will feature a special guest appearance by Danity Kane's Aubrey O'Day. Don't forget about the open bar from 9:30 to 10:30 p.m. ...
MORE PICKS: Natural Vibrations hosts its fourth annual "Chronic Christmas Party" at Pipeline Cafe on Saturday, with opening sets by Ooklah the Moc and Iration. Doors open at 9 p.m. for the 18-and-over crowd ... Ladie K Productions presents "Battle of the Bands" at Tsunami's Waikiki on Sunday, starting at 11 p.m. Stoic, Hollow Union, Supersonic Space Monkeys, Barefoot Samurai and the Gutter Cats are signed up to compete ... Spend Christmas Eve with DJs Eskae and Jahson the 45 Revolver at "Dynamite Soul," an invite-only musical tribute to James Brown. E-mail steve@djeskae.com for the hookup ...