---
FAST FACTS HAWAII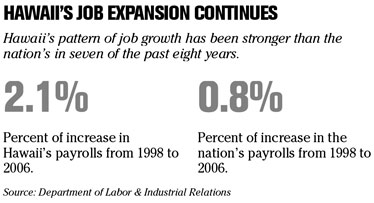 ---
L&L has South Pacific plans
L&L Drive-Inn
, which has already garnered attention for its growth rate in Hawaii and the mainland, is now thinking international.
"We just signed American Samoa and New Zealand, and anticipate opening sometime during the middle of next year," said Eddie Flores Jr., president of the restaurant-franchise chain.
The company said it now has 185 locations in Hawaii and the mainland, where Flores said its next store is now set to open in February in Texas. The company, which has opened 30 outlets this year, also has two more in the works in Hawaii.
Brief case
RUNNING OVERSEAS.
Nike Inc. reported 10 percent growth in net income for the second quarter, largely fueled by growth overseas and comparatively little growth in the U.S. for the athletic shoe and clothing company.
GERMAN GLOOM. Business confidence in Europe's biggest economy slips to a nearly two-year low, pushed down by concerns about the U.S. economy and a global credit squeeze.
BOWL OF PROFITS. Cereal and packaged foods maker General Mills Inc. said its second-quarter profit edged up as revenue growth offset rising ingredient costs, marketing spending and recall expenses. The company earned $390.5 million for the period ended Nov. 25.
---
BUSINESS PULSE