---
FAST FACTS HAWAII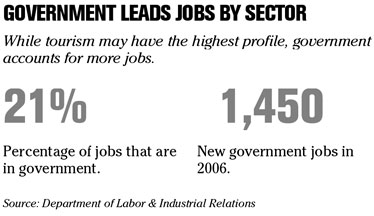 ---
Bankoh reopens Kohala branch
Bank of Hawaii
has reopened its historic Kohala branch on the Big Island, which was severely damaged in the October 2006 earthquakes.
The branch, which marked the occasion Monday with a traditional Hawaiian blessing, was redesigned during its down time with a photovoltaic system installed by Kapolei-based Hoku Scientific Inc. The new solar-power system will make the 107-year-old building energy self-sufficient, Bank of Hawaii said.
While the building was closed, the branch was servicing its customers from a large mobile trailer outfitted with teller stations and ATMs.
Go!'s load factor climbs
Mesa Air Group Inc.
said yesterday its interisland carrier go! filled up a greater percentage of seats in November than a year earlier even though the number of passengers it carried was fewer after reducing flights.
Go!'s load factor, or percentage of seats filled, rose to 70.43 percent from 63.74 percent. Its available seat miles -- one seat transported one mile -- fell 11.4 percent to 11.25 million from 12.7 million.
Mesa also said that go!'s on-time performance rate was 86.6 percent.
Separately, the Phoenix-based carrier said it will release its delayed fiscal fourth-quarter and full-year earnings on Dec. 28.
Brief case
BESTING TEXAS:
The Illinois town of Mattoon beat out two Texas sites for the FutureGen power plant aimed at burning coal without emitting global warming gases, a $1.8 billion venture expected to bring hundreds of jobs.
SCALP THIS: Ticketmaster plans to launch a Web site next year where people can resell tickets to pro football games, the latest push by the event-ticketing company into the lucrative secondary ticket market.
New hires / Promotions
» First Hawaiian Bank has hired
George Weir
as senior vice president and manager of the trust division. He has served positions with Hawaiian Trust Co., New Mexico Bank & Trust and Harris Trust in Chicago. He is a member of both the Hawaii and California Bar Associations and is a former director of the Hawaii Bar Foundation.
Board of directors
» The Hawaii Pest Control Association has named its officers and directors for 2008:
Rodney Ono
, president;
Terrance Manago
, first vice president;
Jon Montalbo
, second vice president and Kauai director;
David Lau
, third vice president;
Jason Sahara
, secretary; and
Shawn Murray
, treasurer. Directors include
Ainsley Ahlo, James Eschle, Josh Joyce, Rigolette Baraquio, Mohinder Mann, Wayne Koide, Kevin Davis
and
Carlton Agena
. Alternate directors are
Vince Mozina
, Maui;
Gary Smith
, Kauai; and
Dave Jones
, Big Island. Also elected are
Alvin Fukuyama
, immediate past president;
Kurt Nosal
and
Roman Dycus
, associate representatives; and
Tim Lyons
, executive director.
» The Rehabilitation Hospital of Hawaii Foundation has elected Matthew Gambetta as a new member to the board. He currently serves as vice president of the Pacific region for REIT Management and Research. He also serves on the boards of NAIOP, the Nature Conservancy, Land Use Research Foundation and Kauai Marriott AOAO.
» The Hawaii Foodbank has elected Wandalee Keating and Jade Moon to the board of directors. Both will serve three-year terms. Keating has volunteered for the Navy-Marine Corps Relief Society, Navy Ball committee, USO Gala committee and CARE. Moon has served as anchor and reporter for KGMB 9 and is currently spokeswoman for HECO's renewable energy and energy conservation campaigns and columnist for MidWeek.
Awards
» Leading Hotels of the World has honored the
Halekulani
with the 2007 Leaders Club Gold Award at its 2007 international convention in Monte Carlo, Monaco. The award recognizes a hotel for exemplary customer service selected from responses received by the Leaders Club Services Department and Leading Hotels of the World members. Leading Hotels of the World is a luxury hospitality organization which represents nearly 450 of the world's finest hotels, resorts and spas.
» MiniCo has named Waikele Self Storage as the runner-up of its 2007 Self Storage Facility of the year awards in the category of conversion winner. The awards are sponsored by MiniCo's international self-storage trade magazine, Mini-Storage Messenger.
» Leimer Cross Design of Makawao has received four awards at the Hawaii's 5-0 design competition sponsored by the American Institute of Graphic Arts Honolulu chapter. The firm was selected as the No. 1 graphic design project in the top-five competition for its Esterline 2005 Annual Report. The firm also has received awards for its 2006 annual report and Expeditors International 2005 and 2006 annual reports.
---
BUSINESS PULSE