| | |
| --- | --- |
| | Newswatch |
---
Power failures riddle Honolulu
Windy weather might have caused power failures for several customers yesterday, a Hawaiian Electric Co. spokeswoman said.
At about 4 p.m., some customers were without power in the downtown area near Queen Emma Street, Vineyard Boulevard and Lusitana Street. Crews soon restored power and said the outage might have been weather related, said HECO spokeswoman Sharon Higa. It was not clear how many customers had been affected.
At the same time, HECO crews restored power to the remaining 400 customers in Kalihi who had been in the dark since early morning. At about 6:30 a.m., HECO found some 900 customers were without power. Higa said crews were inspecting lines to discover the cause of the failure.
There also were pocket outages throughout the day in the Makiki, Tantalus and Round Top Drive areas. Higa said crews worked to trim tree branches that became entangled in power lines, interrupting power.
At 6:40 p.m., HECO crews responded to a utility line down on Round Top Drive that cut power to about 100 customers.
"It's really, really windy up there," Higa said.
---
MISS HAWAII USA IS CROWNED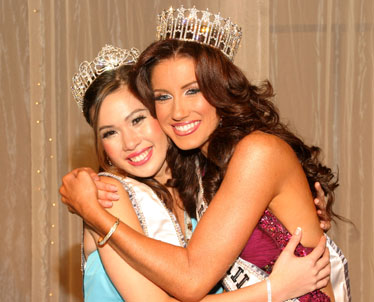 ---
UH-Hilo gift honors Taniguchis
KTA Super Stores and K. Taniguchi Ltd. are donating $50,000 to the University of Hawaii at Hilo to establish UH-Hilo's first permanent faculty endowment.
The gift is in memory of Koichi and Taniyo Taniguchi, the founders and grandparents of current company President Barry Taniguchi, the UH Foundation said in a news release.
The gift establishes an Endowed Faculty Fund for each of UH-Hilo's five degree-granting colleges: College of Arts and Sciences; College of Business and Economics; College of Agriculture, Forestry and Natural Resource Management; College of Hawaiian Language; and College of Pharmacy.
The money will provide funds to enhance recruitment and retention of faculty. The endowment is initially expected to generate about $2,000 a year.
KTA Super Stores and K. Taniguchi Ltd. also established the $150,000 Taniguchi Memorial Fund at UH-Hilo with donations of $50,000 a year during the past three years. That endowment supports faculty development initiatives.
UH gives virus-free banana trees
In response to a dangerous disease threatening Hawaii's banana crops, researchers at the University of Hawaii at Manoa are developing and distributing disease-free plants.
The disease, which is caused by a pathogen known as the banana bunchy top virus, disables plants from bearing fruit if infected early and stunts the growth of older plants, which makes them unattractive and unmarketable.
"The spread of BBTV in Hawaii is greatly influenced by the movement and use of infected plant material, thus the use of field-grown banana suckers as replant material is risky," said Cerruti Hooks, an entomologist with UH's College of Tropical Agriculture and Human Resources. "Using BBTV-free plants is the safest practice available today for replacing diseased banana plants." Sucker is the popular name for a shoot from a stem.
UH's Agricultural Diagnostic Service Center, with help from the Hawaii Banana Industry Association, is selling the tissue-cultured banana plants, which have not been genetically modified and have tested negative for the virus.
Also, these tissue-cultured plants might prevent the spread of plant-parasitic nematodes found in many banana fields, researchers said.
For more information or to place an order for the banana plantlets, which are $1.50 to $5 for unpotted and potted plants, respectively, contact Eden Perez at 358-3789 or Koon-Hui Wang or Cerruti Hooks at 956-2455.
| | |
| --- | --- |
| | Police, Fire, Courts |
---
NEIGHBOR ISLANDS
Car crash kills Big Island woman
A 30-year-old woman was fatally injured yesterday in a single-car crash on the Big Island.
Police identified her as Larnell K. Chillingsworth of Kealakekua. At about 3:40 a.m., Chillingsworth was driving a 1991 Honda Accord northwest on Wakea Avenue. She ran through a stop sign on Kamaoa Road and crashed into a rock embankment, police said.
Firefighters transported her to Kau Hospital, where she died at 4:55 a.m.
Chillingsworth was wearing her seat belt. Police believe alcohol and speed were factors in the crash, and have ordered an autopsy to determine the exact cause of death.
This was the 36th traffic fatality on the Big Island, compared with 33 at the same time last year.
WAIKIKI
Man allegedly attacks police
A 30-year-old man punched two police officers in Waikiki yesterday, police said.
At about 5:30 a.m. the man allegedly punched the police officers as they were arresting his relative.
The man was arrested on suspicion of two counts of assault on a law enforcement officer.
CENTRAL OAHU
Suspect sought in assault case
Police need help finding a man wanted for alleged attempted sexual assault in a laundry room.
At about 9:35 p.m. Nov. 23, a man approached a woman in the laundry area of a Mililani townhouse complex and introduced himself as Justin.
Police said the man allegedly made inappropriate sexual advances toward the woman. When she refused, the suspect walked away.
The suspect is described to be in his 20s, weighing about 140 to 160 pounds and about 5 feet 4 inches to 5 feet 6 inches tall. He was last seen wearing a black T-shirt with shorts and slippers. Anyone with information is asked to call CrimeStoppers at 955-8300 or *CRIME on a cellular phone.