---
FAST FACTS HAWAII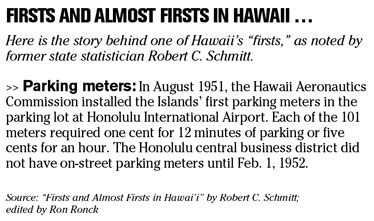 ---
NATION
Sales people have image problem
The stereotype of the arrogant, won't-take-no-for-an-answer salesperson may still persist.
A recent survey by the human resources company Development Dimensions International found that 41 percent of consumers rate the quality of the sales profession below mediocre, describing salespeople as "leeches" and "rashes."
Still, they are a key resource when making shopping decisions.
The level of contempt towards salespeople may become heightened during the holiday shopping season, as many store employees will likely be overworked, undertrained and frazzled by a high volume of questions and complaints, according to Bradford Thomas, the company's sales practice team manager.
"A few bad apples always spoil the bunch," Thomas said. "We see it in popular culture all of the time -- the aggressive, deceptive used car salesperson with high-pressure techniques. But most are dedicated and hardworking."
Not only did respondents say they find sales reps pushy, but 46 percent said they would be ashamed to call themselves a salesperson. One in five buyers said they believe salespeople's expertise is getting worse.
But despite their animosity, those surveyed ranked salespeople their second choice for information to make buying decisions, above friends and family and losing only to the Internet.
"In a given week, people make dozens or hundreds of purchase decisions but see the process as a necessary evil," said Thomas. "It's something people have to do, but they're not always that jazzed about it. They're dealing with salespeople way more than they want to."
More companies going 'green'
Attention environmentally conscious shoppers: Many retail companies are reducing greenhouse gas emissions, investing in renewable energy and launching various green initiatives.
"Sustainability is increasingly valued by consumers, and companies are finding that there is a financial incentive to take action," said Timothy Treadwell, the environmental director for energy risk management company Juice Energy Inc.
A list of some of the largest companies going "green":
» Kohl's Corp. is working to complete one of the largest rooftop solar projects in U.S. history next year, with installations at 63 of their 80 California locations.
» United Parcel Services Inc. operates the largest alternative fuel and low-emission fleet in the industry, and is streamlining delivery routes to eliminate more than 28.5 million miles of driving to date.
» Timberland Co. recently introduced "green" index tags on its products, which rate environmental factors such as use of solvents and organic content. The company plans to become "carbon neutral" by 2010 and recently changed all packaging for its footwear to 100 percent recycled boxes and soy inks.
» Target Corp. reduces wastes through food-donation programs, giving away nearly 7 million pounds of food last year. The company is also developing onsite solar electricity at some of its stores.
» Patagonia Inc., an outdoor apparel distributor, recycles old fleece for use in its new products.
Patients want 'proactive' doctors
A doctor's responsibilities should go beyond checking blood pressure and writing prescriptions, according to a poll that found empathy and compassion lacking in health care systems.
The online poll, done by the Web site CarePages.com, found that 92 percent of respondents said they would like their doctors and nurses to be more proactive in providing emotional support. There were 70 percent who said they needed guidance for comforting someone close to them facing a serious health problem, and 99 percent said they believe emotional support can have a positive effect on the healing process.
"Going to the doctor or seeing a specialist is an intensely personal and very isolating experience," said Eric Langshur, founder of CarePages.com, which offers online support groups.
"Health care providers are often busy, there is a drive for productivity, and their job is demanding. We often talk about insurance issues and medication errors, but here's a difficulty that is in everyone's power to correct today, and some hospitals are starting to take that step."
---
BUSINESS PULSE