---
KEIKI KALIKIMAKA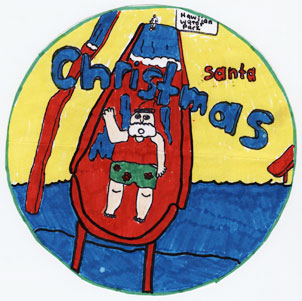 DA KINE
Thor Stor is the latest addition to Waikiki Beach Walk lineup
Thor is opening a new store Saturday at Waikiki Beach Walk.
The artist of whimsical tiki paintings will be in attendance at his latest gallery at 227 Lewers St. (across the street from Yard House) from 6 to 9 p.m.
Part of the festivities include the unveiling of two new pieces, "Top o Waikitiki" and "Hangover Hut."
At noon Saturday, Thor will be at his Navy Exchange store at Pictures Plus to unveil "A Return Once Promised."
Visit thorstor.com for more on the artist and his work.
RESTAURANT REPORT
Celebrity to show at Nobu Waikiki
Those interested in celebrity sightings and those interested in fine dining can combine those pursuits with a visit to Nobu Waikiki over the holidays.
Chef Nobu Matsuhisa, of the star-studded international reputation, will be in the house for Christmas week.
He'll sign copies of his "Nobu Cookbook" from 4 to 5 p.m. Dec. 23. Also available will be specialty Nobu dressings and gift cards, good at all Nobu restaurants in the United States.
Just hoping to catch a glimpse? Matsuhisa is scheduled to be in the kitchen, or greeting guests in the dining room, from Dec. 21 to 24.
Nobu Waikiki, in the Waikiki Parc Hotel, is open for lunch from 11:30 a.m. to 2 p.m. weekdays and for dinner from 5:30 to 11 p.m. daily. The Lounge at Nobu is open from 5 p.m. to midnight daily. The restaurant will be closed Christmas Day.
Call 237-6999.