| | |
| --- | --- |
| | Island Mele |
---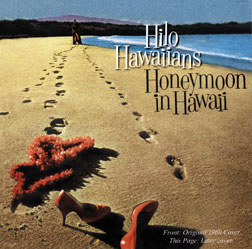 "Honeymoon in Hawaii"
Hilo Hawaiians
(Ono)
With every advance in selling music -- from the cylinders that were state of the art in 1900 to 78-rpm records to vinyl and on to CDs and DVDs -- some recordings made in older formats are left behind. Not only are they out-of-print, but playing them requires possession of obsolete or even antique equipment. The recent reissue of this 1960 vintage album by the Hilo Hawaiians is welcome indeed, because it makes their music available on CD for the first time.
The Hilo Hawaiians were Enoch "Bunny" Brown, Thomas Kihei Desha Brown, Arthur Kaua, Mona Kalima and Buddy Brown. Bunny was the quintet's lead vocalist on many arrangements, but Kihei was the falsetto voice (he's heard here on "Hawaii Calls" and sings it beautifully). On other selections they sang in smooth five-part choral harmonies.
There were other variations. The quintet's version of "He Aloha No O Honolulu" opened with a musical rendition of a traditional chant that was sung rather than chanted, and they gave a contemporary '50s feel to "Nani Wai'ale'ale" by adding percussion and giving Mona Kalima a brief solo on acoustic bass. The latter arrangement wasn't traditional, but it worked!
This reissue adds value to the original vinyl version of 47 years ago by including several songs that weren't on the album. The liner notes offer vintage photos and newspaper stories about the group, including a performance at the Seattle World's Fair in 1962. Anyone who enjoys the Hawaiian and hapa-haole music of the Territorial Era will enjoy the music of the Hilo Hawaiians.
Ono Records
1164 Bishop Street 124-160
Honolulu, HI 96813
---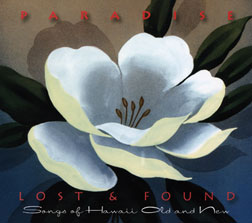 "Paradise Lost & Found"
Various artists
(Flea Market Music)
The revival of interest in the "exotica" music of Martin Denny as lounge music in the 1990s was followed by a similar revival in related genres with tropical or South Seas themes. Vintage albums produced by L.A.-based Hollywood composers in the 1950s have been reissued on CD, and now comes this compilation that pays homage to that musical tradition.
About half the songs date from the '50s and represent the work of Hollywood veterans Perry Botkin, Ken Darby and Mel Henke. Others are the relatively recent work of multitalented Jim Beloff, the head of Flea Market Music and a long-time promoter of the ukulele and Hawaiian music. The artists participating in this tribute to tiki music and island-inspired songs include Beloff (ukulele and vocals), his wife and co-producer Liz Beloff (vocals), Abe Lagrimas Jr. and his Akamai Brain Collective, and two whimsically named tribute groups, Waitiki and King Kukulele & The Friki Tikis.
Chris Kamaka and Na Hoku Hanohano Award-winning producer William "Baba" Alimoot are guest vocalists on Waitiki's recording of "Legend of the Rain," and Bruce Belland of the Four Preps takes the lead on "Duke of Uke," but even without those celebrity guests, there is enough variety from one song to the next to keep things interesting.
For instance, ukelele dominates on one track, but steel drum, alto flute, vibraphone and glockenspiel pop up on others.
Beloff harks back to the Tin Pan Alley style of the late teens and early 1920s with "I'm Carrying a Tiki Torch for You." It's the closest he gets to including a parody of tiki music, and, fortunately, not to the point of mocking it. Instrumental arrangements of two Darby's compositions are fitting tributes to the genre.
---

"Business"
Da Ace and Jay Deuce
(Bayan)
Hip-hop artists can't be said "represent" Hawaii unless their work reflects the experience of living in the Islands, not just passing through -- even if the only sense of place in their work is references to local clubs. This young duo makes that all-important cut with a track that recalls good times at the Ice Palace, Dave & Buster's and the 50th State Fair -- there's also a proud announcement farther on that "HI is where I be, that's where you'll find me."
Local references aside, the two go for a mainstream, middle-of-the-road sound that could fit anywhere in the country. They cover the basic topics expected of male hip-hop artists -- their skills on the mic, their wealth, their sexual abilities and their appreciation of the female derriere. And they show their romantic side with "Come Here Luv," the lament of a broken-hearted man who wants a woman to give him a second chance after he made the "worst decision I ever made in my life."
Hawaii-based DJs have excelled for years at putting together solid mainstream mixes that replicate almost every new idea that's come out of the national scene. These guys are no exception. "Head Banga" shows their familiarity with adding rock guitar to hip hop, "Unwind (Booty Remix)" grabs the ear with a stripped-down percussive sound, and the title track wraps things up on an interesting note as the guys recycle several ideas in fresh style.
Make no mistake, the next time some magazine comes looking for an artist to represent Hawaii, they'll be one of the many Hawaii resident acts that'll deserve the accolade.
John Berger
, who has covered the local entertainment scene since 1972, writes reviews of recordings produced by Hawaii artists. See the Star-Bulletin's Today section on Fridays for the latest reviews. Reach John Berger at
jberger@starbulletin.com
.