Barnwell earnings drop 78.2%
The company blames lower product prices and higher expenses
Barnwell Industries Inc. said yesterday its net income plunged 78.2 percent in the fiscal fourth-quarter as lower natural gas market prices and higher industrywide oil and natural gas operating expenses cut into profits.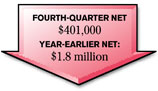 Shares tumbled to a multiyear low on the American Stock Exchange.
The Honolulu-based company, which conducts its energy-related operations in Alberta, Canada, posted net income of $401,000, or 5 cents a share, in the quarter ended Sept. 30 versus $1.8 million, or 21 cents a share, a year earlier.
Revenue climbed 14.8 percent to $11.2 million from $9.7 million.
For the full fiscal year, Barnwell's earnings tumbled 76 percent to $3.5 million, or 41 cents a share, from $14.6 million, or $1.68 a share, a year ago. Revenue fell 18.2 percent to $47.4 million from $58 million.
Barnwell's fiscal 2006 earnings included net revenue of $6.2 million from the closing of a real estate transaction, $5.2 million related to foreign tax credit carryforwards -- only $100,000 of such deferred benefits was recognized in fiscal 2007 -- and a decrease in Canadian tax rates, and $895,000 in net earnings for real estate consulting services.
"Coming off of Barnwell's best year ever in fiscal 2006, fiscal 2007 was Barnwell's ninth consecutive year of profits and its eighth-best year in its 51-year history," Barnwell Chairman and Chief Executive Morton Kinzler said. "Continued strong earnings by Kaupulehu Developments, Barnwell's 77.6-percent owned land partnership (on the Big Island), positive results in our contact drilling operations and solid earnings in our oil and natural gas segment all contributed to this successful year."
Barnwell's board also declared a quarterly cash dividend of 5 cents a share that will be payable Jan. 22 to stockholders of record on Jan. 7.