Kilgo's stock, leasehold interest sold
A New Jersey company has closed a deal to acquire the former Kilgo's and its five leasehold properties at Sand Island.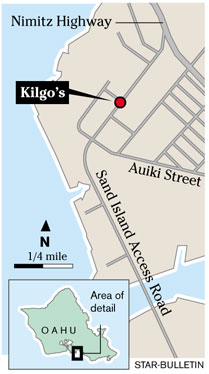 Allied Building Products Corp., a unit of CRH PLC, a Dublin, Ireland, maker and distributor of building supplies, purchased on Friday the stock of A.L. Kilgo Co. Inc. and the leasehold interest to five parcels owned by HRPT Properties Trust.
The sale includes the main Kilgo's building, two warehouses in back and a warehouse on the mauka side of the property. Terms of the transaction weren't disclosed, but the assessed value of the nearly seven acres of land and buildings is $25.6 million, according to city records.
Allied Building is considering relocating its existing businesses to the site of the former Kilgo's, which closed in April after 61 years. Its subsidiaries include G.W. Killebrew Co. Inc., a wholesaler of dry wall, plastering and interior materials, and RSI Roofing & Building Supply, an exterior wholesaler.
The company also is considering options to sublease part of the property, redevelop the site or open another business using the Kilgo's name, according to a source familiar with the deal who asked not to be identified.
The parcels include 300,000 square feet of land and 200,000 to 250,000 square feet of buildings on Sand Island Access Road, Pahounui Drive, Mohonua Place and Auiki Street, with ground leases secured for another 21 years.
The island's tight industrial market has seen continued growth in rental rates for the past five years, according to Colliers Monroe Friedlander Inc.
The industrial vacancy rate at the end of the third quarter for the Sand Island-Kalihi area -- Oahu's largest industrial district -- was 4.38 percent.
The purchase of the Kilgo's site means that a large section of vacancy likely will be filled in the near future, bringing the area's vacancy rate to 2.08 percent, the second-lowest in past 10 years.
In 2005, a banner year for Hawaii real estate, the area's vacancy rate fell to its lowest at 1.35 percent.