Drivers and pedestrians urged to be more aware
The police campaign comes just hours after a girl is hit by a car on her way to school
Honolulu police officers headed to busy downtown intersections yesterday to remind pedestrians and motorists to be safe during the holidays as the number of pedestrians killed on Oahu this year rose to 20, matching figures for all of 2006.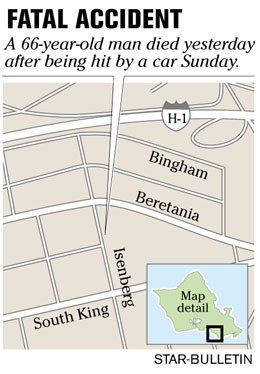 The campaign came hours after a 13-year-old girl was struck by a car on her way to Dole Middle School and after an elderly pedestrian died from injuries received in an accident Sunday afternoon.
Police were looking for the driver of a white sedan, possibly a Subaru, who fled after striking the girl at about 8 a.m. at 2441 N. School St., said Lt. Jerry Wojcik, who heads the Honolulu Police Department's pedestrian safety campaign.
The teenager was not in a crosswalk. She was treated and released from the Queen's Medical Center, officials said.
"The driver must have known he hit her because ... the right passenger mirror is broken," Wojcik said.
Earlier yesterday a 66-year-old man died after being hit by a car at about 6:30 p.m. Sunday as he jaywalked across Isenberg Street, Wojcik said.
He became the 20th pedestrian to die on Oahu roads so far this year, compared with 19 at the same time last year, according to police.
Traffic accidents have killed 63 people on Oahu this year, down from 87 fatalities at the same time last year. In all, 90 people died on island roads in 2006, including 20 pedestrians, police said.
Of particular concern to police is that only nine of the 20 pedestrians killed this year were in crosswalks. During the first 10 weeks of the year, there were 10 pedestrian deaths, prompting calls for stricter enforcement and safer crosswalks.
"It seems that this awareness has been forgotten," Wojcik said as officers handed out pamphlets at the corner of Kamakee and Auahi streets. "The pedestrians are not paying attention. The drivers are not paying attention."