---
FAST FACTS HAWAII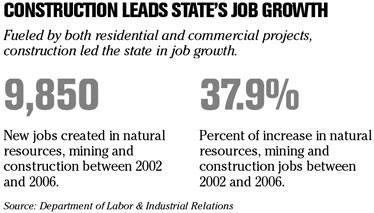 ---
Hawaiian Air seats 88.7% full
Hawaiian Airlines
filled 88.7 percent of its seats in November -- 3.7 percentage points above the year-earlier period -- even as it increased seating capacity.
The airline said 592,441 passengers traveled systemwide, up 11.7 percent from 530,159 in November 2006. Hawaiian's available seat miles -- one seat transported one mile -- increased 7.1 percent to 768 million from 716.8 million while its revenue passenger miles, or the total miles flown by paying passengers, rose 11.8 percent to 681.1 million from 609.3 million.
Alaska Air starts Honolulu service
Alaska Airlines
inaugurated nonstop, year-round service between Anchorage and Honolulu yesterday with its 157-seat Boeing 737-800 aircraft.
In October, the Seattle-based carrier started nonstop Seattle-Honolulu and Seattle-Lihue service.
The Anchorage-Honolulu flights leave Ted Stevens Anchorage International Airport at 3:30 p.m. Alaskan time and arrive in Honolulu at 8:40 p.m. Hawaiian time. Return flights depart Honolulu at 10:10 p.m. Hawaiian time and arrive in Anchorage at 5:30 a.m. Alaskan time the next day.
Regulators' order against CPB lifted
Central Pacific Financial Corp.
, Hawaii's fourth-largest bank by assets, has been notified that a cease-and-desist order agreed to in November by its subsidiary, Central Pacific Bank, has been terminated by the Federal Deposit Insurance Corp. and the Hawaii Division of Financial Institutions.
The order had concerned compliance with the federal Bank Secrecy Act after regulators found the bank's ability to monitor large currency transactions deficient. The law, tightened in 2001 after the terrorist attacks, is directed against money-laundering and terrorist financing.
In agreeing to the cease-and-desist order, the bank said it would improve detection, monitoring and reporting of large transactions and other unspecified "suspicious activity." The remedies included hiring more staff and strengthening internal controls, the bank said.
Island Air offer changes on the Net
Island Air has begun a new 24-hour online service that makes it possible for passengers to revise flights, travel dates and routings.
Previously, only new bookings could be made through the Internet and changes were handled by the Island Air reservations department during call-center hours. The new service has the capability of collecting change fees and fare differences via the Web.
New hires / Promotions
» The American Civil Liberties Union of Hawaii has hired
Daniel M. Gluck
as senior staff attorney. He joins the Hawaii legal team currently staffed by legal director Lois Perrin and staff attorney Laurie A. Temple. He previously served as an associate with the Honolulu office of Alston Hunt Floyd & Ing. He has also served as a law clerk to the Honorable James Duffy, Associate Justice of the Supreme Court of Hawaii and to the Honorable J. Michael Seabright, United States District Judge for the District of Hawaii.
» Maui Land & Pineapple Co. has promoted Karin Sagar to corporate vice president of marketing from vice president of marketing for Kapalua Land Co. She will continue her responsibilities in strategic marketing for Kapalua Land Co. and assume responsibilities for Maui Pineapple Company and its partnerships and special projects. She has served the company since 1994.
» Sheraton Kauai Resort has promoted Kristin Figueira to catering and convention services manager from sales reporting systems analyst and sales administrative assistant. She joined the resort in 2004 as a hotel reception service agent and also has served as front desk supervisor and guest services manager. She previously served as a rental agent for Avis and National Car Rental Companies.
» A&B Properties has hired Robin James as asset manager. She will be responsible for managing the company's retail, office and industrial properties on the mainland, based in Sacramento, Calif. She previously served at Pacific Coast Commercial Real Estate Services in Sacramento as on-site manager for three office properties owned by A&B and as property supervisor for Whirlygig Properties in Arizona.
---
BUSINESS PULSE