---
FAST FACTS HAWAII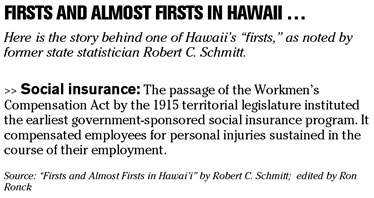 ---
NATION
Women entrepreneurs motivated
A desire for work-life balance and self-management were the top reasons women wanted to start their own businesses, said the respondents to this summer's Make Mine a Million $ Business survey.
"After having a successful career in corporate America, I wanted to create some options," said Maureen Borzacchiello, president of Creative Display Solutions, a West Hempstead, N.Y.-based firm. "It was (about) taking control of my life and being able to say, 'If I want to have a child and work part-time or work at 2 in the morning, I have that option."'
Almost two-thirds of the women who participated in the survey said they were mothers.
Voluntary e-mail questionnaires were sent to women registered on the Make Mine a Million $ Business Web site. Make Mine a Million $ Business is a program co-founded by the nonprofit Count Me In for Women's Economic Independence and American Express Co. The program sponsors contests and provides financing, mentoring and workshops to help women entrepreneurs reach $1 million in annual revenues.
Gift-card spending to hit record
SAN ANTONIO » Market research predicts spending on gift cards is expected to reach a record high of $35 billion this year.
Seventy percent of shoppers will buy at least one gift card. More than half hope to receive at least one, according to the National Retail Federation.
Here are a few things you need to know about these perfect little presents:
» Some charge you for not spending them. Some expire. Some cost you more than the value of the card. Some charge for shipping and handling.
» For the best deals on gift cards, shop direct. Go to your retailer of choice and pick up a card for however much you want to give. Retailer cards -- whether bought from the store or the gas station down the street -- usually don't charge fees.
» Credit card gift cards -- the nifty MasterCard, Visa, American Express and Discover cards you can spend just about anywhere -- cost between $2.95 and $6.95, according to a 2007 gift-card study by Bankrate.com. Even if you're willing to pay to buy your loved ones a shopping spree of their choice, they're going to have to remember to use the cards before they expire or start charging.
» If you're a last-minute shopper and you're looking to send a little something to a far-off loved one, an e-gift card -- deliverable in mere minutes -- could be the way to go. Not all stores offer them, but most that do don't charge fees or have expiration dates, according to Bankrate's survey.
December is the time to save
Wondering what that ringing in your ear could be? It's December savings calling.
Here are a few secrets of what you should seek and what you should avoid:
» Belle of the ball: Instead of dumping hard-earned cash on a trendy and fleeting new wardrobe, express yourself with some new makeup. Department-store cosmetics are notoriously expensive, but two-for-one and gift-with-purchase deals are prevalent in the month of December. To get the biggest bang for your buck, divide those freebies into separate gifts. They make great stocking stuffers.
» Big-screen envy: Not only do TVs and home theater equipment top many holiday wish lists, they also happen to be priced right -- right now. New tech lines are announced in January, which means retailers want to clear existing inventory from their shelves. This translates to deep discounts for discerning shoppers. And unlike that archery set your son wants or extreme skateboard on your daughter's list, a TV and home theater system offer danger-free fun for the whole family.
» Holiday goodies: The day after Christmas is the best time to stock up on all cards, wrapping paper, seasonal tablecloths and the like. Be sure not to spend a penny over 50 percent of the original sticker price. You will be very thankful you took advantage of these deals when you find yourself more than prepared for next season's decorating.
» Avoid like the plague: You may have heard that Mother's Day and Valentine's Day are the worst times to buy jewelry, but December is just as bad, with holiday prices for jewelry at an all-year high. Save the fuzzy little box for an unexpected surprise later in the year.
---
BUSINESS PULSE