| | |
| --- | --- |
| | Wood Craft |
---
HPD's 'Butch' Robinson retires after a record-setting 45 years
Maj.
Henry "Butch" Robinson
, the Honolulu Police Department's longest serving officer ever with 45 years, was given a royal retirement party Nov. 30 at St. Louis Alumni Clubhouse. Butch was known as one of HPD's really good guys.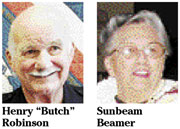 A
John Wayne
slideshow, featuring photos of Butch as a big strong law officer such as Wayne portrayed in movies, was screened and brought many laughs. Photos of Butch throughout his lifetime were also shown. Most of the 200 people attending were police officers. Punahou is not known as an HPD recruiting site but that was Butch's school. He was a 1958 grad. His classmate
Doug Gibb
also joined HPD and rose to chief. Others attending included Butch's fellow Punahou jocks
Bob Corboy, Larry Johnson, Buddy McGuire, Dave Fairbanks
and
Alex Jamile
. Classmates who came from the mainland for the party, besides Gibb, were:
Scott Gaffney, Jim Altman
and
Dave Benson
...
Happy birthday to Sunbeam Beamer who celebrates her 80th with family and friends Tuesday at Lanikuhonua. Sunbeam lives in Palm Springs, Calif., now and friends from there will also attend ... Sam Choy will conduct a holiday cooking class and present a three-course meal next Saturday at his Diamond Head restaurant, 10 a.m. to 1 p.m. Kim Karalovich of the Wine Stop will explain how to choose wines to increase the enjoyment of food. Tickets are $145. Call 735-7788 for reservations ...
Kahala tree lighting also brightens guests
The Kahala Hotel's Christmas tree lighting party Wednesday lit up the spirits of the crowd. Managing Director
John Blanco
welcomed guests, who sipped wine and pupu and posed for photos in front of the large tree, a beauty. Holiday music was performed by the
Honolulu Boy Choir. Tennyson Stephens
played Christmas songs on the piano. HUGS officials
Donna Whitsell
and
Catha Lee Combs
spoke of their programs and of the Kahala's help with them. HUGS aids families with seriously ill children. Promoter
Tom Moffatt
was there and greeted guests
Neil Sedaka
, the composer-singer's wife of 45 years
Leva
, their daughter
Dara
and son
Mark
, and Mark's wife
Samantha
and their three children. Sedaka performs at the Hawaii Theatre tomorrow ...
Ben Wood
, who sold the Star-Bulletin in the streets of downtown Honolulu during World War II, writes of people, places and things in our Hawaii. E-mail him at
bwood@starbulletin.com