| | |
| --- | --- |
| | Island Mele |
---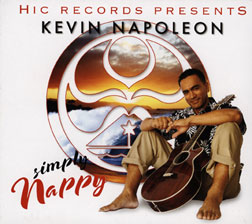 "Simply Nappy"
Kevin Napoleon
(HIC Records)
Kevin Napoleon makes an impressive step forward from "backyard" artist to record industry professional with his beautifully packaged debut album. Napoleon -- "Nappy" for short -- demonstrates his versatility as both vocalist and songwriter with 14 original songs and proves himself equally at home with Hawaiian music, Jawaiian and pop. Give Napoleon and producer Stephen Ehret bonus points for having enough confidence in his work that they didn't add any lame "island music" remakes to the set list. The closest they get to a remake is using a few lines from "Big Ship," a local hit for Brother Noland Conjugacion in the mid-1980s, as the fade-out on "Panokapila," a Jawaiian number that includes shout-outs to two local groups.
Napoleon proves himself a Jawaiian artist worthy of play on Hawaii's "island music" radio stations with the opening song, "Beautiful Days," and reinforces that claim with several others. Napoleon and his studio musicians capture the good-time vibe and Jamaican rhythms of the genre without sounding like rasta-wannabes. "Hold Me Tight" and "By the End of the Night" are good examples of his skill at combining risqué lyrics with party-hearty rhythms.
Napoleon turns to his personal roots music with two beautiful Hawaiian love songs, "E Pili Mai 'Oe" and "He Aloha." A third Hawaiian song, "Ka Honu O Ke Kai," is a requiem, and also beautifully done.
A third facet of his repertoire is represented by "I Wanna Be Loved," a midtempo pop song that he performs in a style that suggests a blend of Kalapana and Norm Compton.
Napoleon also shows potential as a soulful acoustic pop vocalist with two introspective numbers -- "Empty" and "Wish."
Island expatriates will relate to the vignettes of local life he describes in "NaNa's Finest" as he pays homage to Saleva'a Atisanoe. Yes, they've all come a long way from those days on Mohihi Street!
Napoleon doesn't need a lot of instrumental support. His own acoustic guitar is all he needs on several selections. Ukulele defines the melody on several others, and a basic bass-and-drums rhythm section provides a solid foundation on the Jawaiian numbers.
---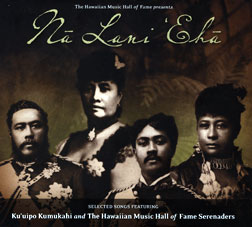 "Na Lani 'Eha"
Ku'uipo Kumukahi and the Hawaiian Music Hall
of Fame Serenaders
(Hawaiian Music Hall of Fame)
When the Hawaiian Music Hall of Fame and Museum was founded in 1994, the first to be honored -- designated as "patrons" rather than "inductees" -- were King Kalakaua, Queen Lili'uokalani, Prince William Pitt Leleiohoku and Princess Miriam Likelike. Known collectively as Na Lani 'Eha ("The Royal Four"), they were not only generous patrons of Hawaiian arts throughout the years of the Kalakaua Dynasty, but also accomplished lyricists and composers. With Heinrich "Henri" Berger, bandmaster of the Royal Hawaiian Band, as their mentor and oft-times collaborator, the "Royal Four" were the foremost Hawaiian songwriters of the 19th century. It is appropriate then that the organization's first recording project showcases their music.
Na Hoku Hanohano Award-winning Ku'uipo Kumukahi is the primary vocalist on this beautiful collection of Hawaiian standards, and she makes each selection worth hearing. The Serenaders -- Isaac Akuna, James "Kimo" Stone and Joseph Winchester -- provide backing harmonies, and Akuna and Kumukahi are the studio musicians.
The quartet introduces itself with a stirring rendition of "Hawai'i Pono'i," the national anthem written by Kalakaua (lyrics) and Berger (melody) in 1874, and continue with 11 more 19th-century classics by the royals. Kumukahi is also producer of the album, and she makes a wise choice in omitting two obvious picks -- Lili'uokalani's worldwide hit, "Aloha 'Oe," and "Adios Kealoha" by Leleiohoku -- and including others that are not as well known. Leleiohoku is well represented by "Moani Ke 'Ala" and "Wahine Hele La ('O Kaiona)." Kalakaua and Lili'uokalani, the most prolific of the four, are represented with four songs each.
"'Ainahau" and "Ku'u Ipo I Ka He'e Pu'e One" are excellent picks as examples of Likelike's smaller body of work.
It's customary to give fundraiser projects a bit of slack regarding annotation since the additional cost of a liner-notes booklet raises the break-even point and thereby reduces the amount of money that goes to the beneficiary. It would be nice, however, if a few lines had been included by way of explaining why these particular songs were chosen.
"Hawai'i Pono'i" is an obvious pick for any project honoring these four Hawaiian patriots, but what about the others? Adding a page to the organization's Web site (www.hmhof.org) providing the history of these songs and the basic meaning of their lyrics would make this information available to most buyers while keeping production costs down.
John Berger
, who has covered the local entertainment scene since 1972, writes reviews of recordings produced by Hawaii artists. See the Star-Bulletin's Today section on Fridays for the latest reviews. Reach John Berger at
jberger@starbulletin.com
.