Love Club at Amy's Place offers casual venue for music
LIVE MUSIC continues to flourish in Chinatown, with another venue set to launch with new offerings this weekend.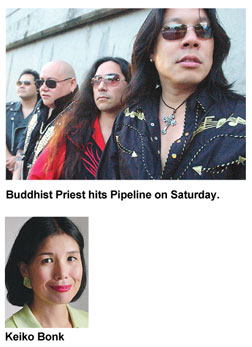 Most of the hipsters that occupy NextDoor, thirtyninehotel or Indigo probably wouldn't even consider stepping foot inside Amy's Place at the corner of Hotel and Smith streets. Keiko Bonk hopes to change that attitude with the launch of "The Love Club," a new weekly showcase that draws inspiration from the music scene of the Big Apple.
"The Love Club is a rebirth of a club I ran in New York City," she said via e-mail. "It will be a casual, unpretentious place for people to gather and listen to local musicians develop original poetry, music and performance."
If Bonk is looking for unpretentious, she's definitely found it at Amy's Place.
Bonk, who was elected to the Hawaii County Council in the '90s and served as executive director of the Japanese Cultural Center of Hawai'i from 2003 to '05, will put on her hostess cap this weekend to welcome Millicent Cummings, Dr. Gil and Professor Miles, Barefoot Bob and Liz Reznick to the stage. The rhythm section of her own band, Kazan, will be on hand to back up the guest performers.
On Saturday, John Hart and Saint Funk will perform. Bonk will play with Kazan every first and third Friday at the bar starting in January.
The music starts at 8 p.m. Fridays and Saturdays, with no cover charge. Artists interested in performing can reach Bonk at 734-4234 ...
WITH CHRISTMAS break on the horizon, local promoters have introduced a number of new parties.
Evol Entity, Kaizo Speedgear, Moguls Entertainment and Racesauce are among the promoters behind a new Friday weekly at Tsukiji Fish Market inside Ala Moana Center's Ho'okipa Terrace. DJ K-Smooth joins the Main Ingredient and Nocturnal Sound Krew as residents for this one; 21 and over welcome.
Venus Nightclub has repositioned its weekly 18-and-over night on Fridays, launching "The Vault" last weekend with a $1,000 cash giveaway and free drinks from 10 p.m. to midnight. The Don K Won hosts, and you'll pay just $5 to get in if you're old enough to drink.
And in Waikiki, James Coles has moved "Fire" from Lulu's to Sparky's inside the International Market Place. The 18-and-over party still features Power 104.3's Micah Banks on the microphone and DJ Peter Lau on the decks ...
PIPELINE CAFE presents another walk down memory lane this weekend with a pair of concerts at the Kakaako nightclub.
"The '90s Invasion" takes place Friday after being rescheduled from earlier this year. The C&C Music Factory Tribute featuring Freedom Williams, Seduction and the Cover Girls will perform starting at 8 p.m.
On Saturday, Dallas-based Back in Black presents an evening of cover songs in tribute to AC/DC. Local boys Buddhist Priest have signed on as the opening act; doors open at 7 p.m. for all ages.
Call 589-1999 for more info on either show ...
MORE CONCERTS: The Police have wisely announced a second show on Feb. 17 at the Blaisdell Arena, after tickets for their Feb. 16 concert sold out in less than two hours last weekend. You'll have another shot at tickets starting at 9 a.m. Saturday at all Ticketmaster outlets ... Brooklyn-based musician-DJ-producer Clarence Greenwood -- better known as Citizen Cope -- arrives in town this week for gigs on three different islands. He'll play Maui's Hard Rock Cafe on Friday, followed by sets at NextDoor on Dec. 13 and Waimea Falls Park on Dec. 14 ... And don't forget about Lupe Fiasco finally making his Hawaii debut later this month. He'll headline at Pipeline on Dec. 27 ...