---
FAST FACTS HAWAII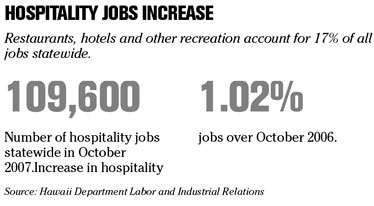 ---
Longs to offer medical clinics
Longs Drug Stores Corp.
announced yesterday plans to offer two walk-in medical clinics in Hawaii by the end of this year.
Longs will lease space to Access Medical Clinics, an independent operator, which will be available at its stores in Mililani Town Center and Ewa Beach.
Access clinics will provide basic health care needs such as the treatment of colds, flu, infections, rashes and strep throat. Longs has similar relationships with other independent medical clinics in four of its stores on the mainland as well as nine Quest Diagnostic Labs.
The clinics will be staffed by physicians with oversight over physician assistants and nurse practitioners.
No appointment will be necessary since all care will be delivered on a walk-in basis.
Gas Company getting new chief
Jeffrey Kissel, a pioneer in the renewable fuel industry, will take over as president and chief executive officer of the Gas Company effective Dec. 17.
Kissel is returning to Hawaii from his position as president and chief executive officer of Safe Renewables Corp., a commercial producer of biodiesel and a pioneer in the production of renewable fuel for large-scale power generation in Texas.
A graduate of the University of Hawaii, Kissel started his career at the Gas Company. He is on the board of directors of ML Macadamia Orchards.
The Gas Company, a unit of Macquarie Infrastructure Co., employs more than 300 people and serves 67,000 customers.
Dods turns over BancWest title
Walter Dods will step down from his post as nonexecutive chairman of First Hawaiian Bank's holding company, BancWest Corp., at the end of the month.
Dods, who retired in 2005 as chief executive of BancWest and First Hawaiian Bank, will continue to serve as a director of BancWest and nonexecutive chairman of First Hawaiian Bank.
First Hawaiian, headed by CEO Don Horner, and San Francisco-based Bank of the West are both owned by BancWest, a subsidiary of French banking giant BNP Paribas.
Dods' departure coincides with the retirement of Bank of the West CEO Don McGrath on Dec. 31. McGrath, 59, will remain as CEO of Honolulu-based BancWest.
Michael Shepherd, 52, president of Bank of the West, will replace McGrath as CEO on Jan. 1.
BRIEF CASE
Costly backdating
Former UnitedHealth Group Inc. Chairman and CEO William McGuire has agreed to surrender more than $400 million to settle a lawsuit related to a stock-options backdating scandal. McGuire stepped down a year ago as the highest-profile corporate chief caught in the probe.
Dell in Best Buys
Dell Inc. is further eroding its direct-to-consumer sales model and will start selling notebooks and desktop computers at Best Buy stores in January. With the Best Buy agreement, Dell machines will be sold in nearly 10,000 stores around the world.
Fuel efficency
The House approved the first increase in federal automobile fuel efficiency requirements in three decades as part of an energy bill. The bill faces a certain filibuster in the Senate and a veto threat from the White House.
---
BUSINESS PULSE