HEISMAN CANDIDATES
McFadden, Daniel, Tebow round out field
NEW YORK » Florida quarterback Tim Tebow, trying to become the first sophomore to win the Heisman Trophy, and Arkansas running back Darren McFadden, the runner-up for last year's award, were among the four finalists selected yesterday.
Missouri quarterback Chase Daniel and Hawaii quarterback Colt Brennan were the other finalists. They will all be in New York on Saturday night when the award is given to the top player in college football.
The Heisman race took a while to develop this season and seemed wide open until the last month, when Tebow, McFadden and Daniel emerged as front-runners.
Since the first Heisman was given to Chicago's Jay Berwanger in 1935, all 70 players who have won college football's most prestigious award have been juniors or seniors.
Tebow could break that trend. The ultimate dual-threat quarterback, the 235-pound Tebow ran for 838 yards and a Southeastern Conference-record 22 touchdowns.
He's also the nation's second-leading passer, having completed 68 percent of his throws for 3,132 yards, with 29 touchdowns and just six interceptions in his first season as a starter.
Tebow's already had a historic season, becoming the first major college player to run for 20 touchdowns and throw 20 TD passes in the same season.
"He has done things that no one else in college football has been able to do and I hope people realize the magnitude of his accomplishments," Florida coach Urban Meyer said in a statement.
Tebow has never been to New York and he plans to have his parents and some of his siblings along for the trip.
"I'm looking forward to seeing all of it, Central Park, the Christmas tree (in Rockefeller Center), Ellis Island, the Statue of Liberty, everything," Tebow said. "It's going to be cool, just walking the blocks. I've never been to a city like that."
McFadden was one of the preseason favorites after finishing second to Ohio State quarterback Troy Smith last year. His candidacy lagged with a mediocre October, but he gave himself a boost with a spectacular November. In the final month of the season, McFadden tied the SEC record with 321 yards rushing against South Carolina, and ran for 206 yards and three TDs and also threw a touchdown pass to lead the Razorbacks to a 50-48 triple overtime victory over then-No. 1 LSU.
McFadden could become the fifth player to win the Heisman the year after being the runner-up, joining Tom Harmon of Michigan, Glenn Davis of Army, O.J. Simpson of USC and Herschel Walker of Georgia.
Daniel was one of six quarterbacks to reach 4,000 yards passing this season. He threw for 4,170 yards and 33 TDs to get the surprising Tigers within a victory of reaching the BCS national championship game.
"This shines a huge light, a shining light, on the University of Missouri and the state," Missouri coach Gary Pinkel said in a conference call with the Mizzou Tiger Club of St. Louis yesterday.
---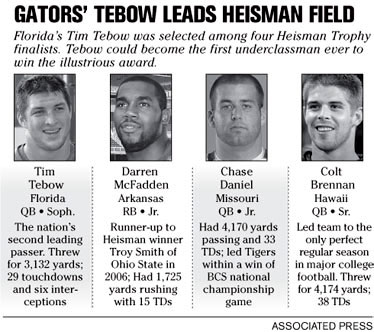 ---
This season, Brennan led Hawaii (12-0) to the only perfect regular season in major college football and its first Bowl Championship Series appearance, but his numbers were down from last year because he lost some time to injuries.
In the Warriors' run-and-shoot offense, Brennan passed for 4,174 and 38 touchdowns. He also set the major college record for career touchdown passes with 131.
"It's a great feeling because it's not like I'm the only one getting rewarded here. It's everybody who played with me getting rewarded," Brennan said.
The Heisman finalists are the top vote-getters in balloting by media members and former players.
McFadden and Brennan were among the players who received plenty of preseason Heisman hype, along with Southern California quarterback John David Booty, Louisville quarterback Brian Brohm, Rutgers running back Ray Rice and Michigan running back Mike Hart.
Booty missed time with injuries and never made a serious run. Injuries also held back Hart. Brohm and Rice had big numbers, but their teams slumped.
Midway through the season, Tebow and Oregon quarterback Dennis Dixon started separating themselves from the pack. A knee injury ended Dixon's season early and probably cost him a trip to New York for the award presentation.
Dixon and the Ducks were No. 2 in the country heading into their 10th game of the season. His left knee buckled early in a loss to Arizona, and without him the Ducks lost their final two games.
West Virginia quarterback Pat White was getting lots of Heisman consideration late in the season, when he had four straight 100-yard rushing games and had the Mountaineers within a win of playing for the national title.
But White and West Virginia fell flat in their season finale, losing 13-9 to Pittsburgh. White missed about half the Pitt game with a dislocated thumb on his right (non-throwing hand).