---
FAST FACTS HAWAII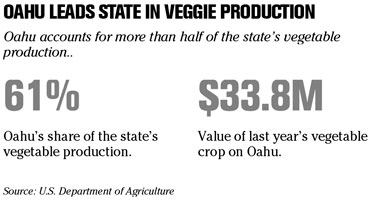 ---
Cemetery deal affects site here
StoneMor Partners LP
said yesterday it will enter the Hawaii market under a deal with
Service Corp. Internationa
l, which runs six isle mortuaries and cemeteries.
Bristol, Penn.-based StoneMor will operate one SCI property here, the company said, without specifying which location. A call to SCI's Houston headquarters was not returned.
It is part of a larger $68 million agreement, where StonMor will acquire or manage 45 cemeteries, 30 funeral homes and one pet cemetery in 17 states and Puerto Rico. It will bring the total number of properties owned or managed by the company to 281.
BRIEF CASE
Merck disappoints
Merck & Co., the third-largest U.S. drugmaker, forecast 2008 earnings that may miss analysts' estimates. Merck said it expects to lose as much as $2 billion in revenue this year as cheaper generic copies of its osteoporosis drug Fosamax become available.
Abbott bleeds
Abbott Laboratories will cut 1,200 jobs in California and Ireland, trimming costs in the division that makes heart stents and other devices to treat blood vessels. The company's loss on vascular devices, including the stents, more than doubled during the third quarter even while revenue increased.
Dow cuts back
Dow Chemical Co. announced it is cutting 1,000 jobs, as part of a plan to rid itself of underperforming businesses and boost efficiency. Shutdowns and cutbacks will focus on Louisiana and West Virginia as well as Asia and Latin America.
NEW HIRES / PROMOTIONS
» Jamba Juice Hawaii has announced the following promotions:
Tyler Bernabe
has been promoted to general manager from assistant general manager of Jamba Pi'ilani. He joined the company in 2003 as a team member for Jamba Maui Marketplace.
Shentel Romias
has been promoted to general manager from assistant general manager of Jamba Kona Coast. She joined the company in 2003 as a team member for Jamba Aiea.
» Aqua Hotels & Resorts has promoted Guy Underkoffler to senior vice president from controller. He will oversee product quality and integrity, customer satisfaction, owner relations, human resources, financial performance and business development throughout the entire organization. He previously served as controller for the Fairmont Miramar Hotel in Santa Monica, California and has also served management positions at Sheraton, Wyndham, Westin, Marriott and W Hotels.
» Market Trends Pacific has hired Dirck J. Noordhoff as partner and vice president of finance and operations. He previously served as vice president of merchandising and production for Hilo Hattie. He has also served at Walt Disney Resorts, leading Disney's California Adventure product implementation team and at Duty Free Shoppers Group, managing Los Angeles International Airport store operations, merchandise planning and control operations. He has more than 15 years of executive administrative and financial management experience.
» Kuakini Health System has named Sharon Yoshida as vice president and chief financial officer. She will oversee Kuakini's fiscal departments which include accounting, business services, revenue management, payroll and purchasing. She has previously served positions at Ernst & Young, Bank of Hawaii, Central Pacific Bank and Centex Destination Properties and is a past president of the American Society of Women Accountants Honolulu chapter.
» PacRim Marketing Group has hired Desiree Yamamoto as marketing and client services manager. She will assist clients in reaching the Japanese market through advertising, public relations, promotions and event planning. She previously served as client service and planning executive for Red Rover Creative and assistant account executive for Laird Christianson Advertising. She has also served as a cultural ambassador for the local Japanese American community on the mainland and Japan during her reign as Cherry Blossom Festival Queen for the Honolulu Japanese Junior Chamber of Commerce from March 2006 to March 2007.
» Ruth's Chris Steak House Restaurant Row has named Joseph P. Barouche III as manager. He previously served as dining room and bar manager at Palomino's, general manager of Chai's Island Bistro and as acting director of restaurants/Prince Court restaurant manager at the Hawaii Prince Hotel. He has also served restaurant management positions at Five Palms in Kihei, Aston Wailea, Royal Garden Hotel and Duc's Bistro.


---
BUSINESS PULSE