---
FAST FACTS HAWAII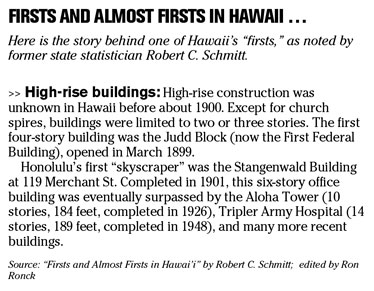 ---
NATION
Grocery stores lure holiday buyers
CINCINNATI » Do your holiday shopping in a grocery store? Some grocery store chains, appealing to consumers' desires to save gas, money and time, are pushing that notion this season.
Cincinnati-based Kroger Co., the nation's largest traditional grocer, ran full-page ads this week touting gifts under $30 for such items as plush blankets, under $20 for such products as computer bags, and under $10 for stuffed toy bears and other gifts.
Safeway Inc., based in Pleasanton, Calif., says it offers some 250 gift cards -- Blackhawk Network is a Safeway subsidiary -- and it has increased holiday offerings, with items such as doll houses and dolls, game sets, stylish decanters and hot chocolate maker sets.
"We are expanding holiday gift items, especially on safeway.com," said spokeswoman Teena Massingill.
Minneapolis-based Supervalu Inc. also has stepped up its holiday gift items this year, with a focus on electronic items from GPS systems to printers, holiday decorations and more than 200 holiday gift cards.
Be sensitive about gifts
When it comes to holiday shopping for corporate vendors and clients, it may be tempting to buy a pair of tickets to a sporting event and call it a day.
But expensive, corporate-paid gifts are often impersonal, according to Dov Seidman, author of "HOW: Why HOW We Do Anything Means Everything in Business (and in Life)" and chief executive officer of business ethics company LRN.
"You want to give something that is meaningful in the context of your relationship, and not something just of monetary value that might have very little authentic connection to your experiences with them," Seidman said. "You also don't want to make them feel indebted to you."
Extravagant gifts, like gluttonous dinners or a new set of golf clubs, could be perceived as inappropriate and may even alter the business relationship for the worse. Instead, Seidman suggests buying gifts that will spark conversation and are not as costly, like books. If you do want to purchase front-row seats to a game or concert, attend it with the client.
The same caution should be applied to accepting gifts. There is often a fine line between what a company's policy will allow and what is appropriate, Seidman said. If a gift is too lavish, motives should be evaluated.
"Gifts are vague and often can be deceptive in terms of what they are intended to do and whether they will result in a conflict of interest, a bribe or appearance of impropriety," Seidman said.
Holiday parties gain in popularity
However memorable, or unmemorable, company holiday parties may be, they are becoming increasingly popular. A survey by
American Express Co.
found that 86 percent of businesses are planning an event this year.
» Three out of four companies will hold team lunches, dinners and special events.
» More companies -- 53 percent -- will host in-office parties, rather than at a hotel or party space.
» Invitations will be extended to spouses and friends at 46 percent of the businesses polled.
» Beyond holiday parties, 43 percent of surveyed employers are planning group activities such as volunteering in a soup kitchen.
» Gift exchanges are planned by 41 percent.
» Of employees surveyed, 27 percent say they find holiday parties "fun and interesting;" 48 percent said they "can take it or leave it;" and only 4 percent said the parties are "to be avoided at all costs."
Generation Y charging ahead
The new generation entering the work force may be more ambitious and savvy than their parents, according to a recent study.
Generation Y -- broadly defined as those born between 1979 and 1999 -- are interested in saving for retirement, finding a solid health care plan and establish- ing partnerships with their bosses, says a joint study between Yahoo! HotJobs and Robert Half International.
A poll found that 60 percent of Gen-Yers want to hear from their managers at least once a day, and 46 percent consider their career prospects better than previous generations. Nearly three out of four said they will likely go back to school to obtain another academic degree or certification.
The survey was conducted by an independent research firm and included 1,007 Web interviews of employed people ages 21 to 28.
---
BUSINESS PULSE