| | |
| --- | --- |
| | Newswatch |
---
Man sentenced in 2003 assault
One of 11 men indicted on racketeering and assault charges against rival security at illegal game rooms in Honolulu was ordered yesterday to serve nine years in federal prison for two counts of assault with a dangerous weapon.
U.S. District Judge David Ezra ordered that Hee Song Yoo, who managed several illegal gambling businesses in Honolulu, be given four years' credit for time already served in state prison for his role in an assault at a Kapiolani Boulevard game room. Yoo, also known as Korean Johnny, will be serving his federal time at the same time as the state sentence of 10 years.
Yoo pleaded guilty to charges stemming from a July 30, 2003, baseball bat beating on two men providing security at a Young Street game room four days after the Kapiolani game room case.
One of the victims in the July 30 case was seriously injured after being beaten with a baseball bat and had a microwave smashed on his head.
A second man was stabbed numerous times, beaten with a bat and suffered various injuries, including multiple nose fractures. He was later wounded by a gunshot in the head in January 2006 at a shooting at the Pali Golf Course in which two others died.
Big Isle students must retake SAT
About 77 Big Island students from public and private schools will have to retake the College Board SAT after being given additional time to complete the exam at Hilo High School earlier this month, the school said.
Principal Robert Dircks said yesterday that an employee who administered the five-hour college entrance test on Nov. 3 gave the students an extra 10 minutes in its last section.
The person informed the school and reported the incident to the College Board after realizing he had made a mistake, Dircks said. Dircks apologized for students who will have to retake the long exam on Dec. 15, but said college applications are unlikely to be jeopardized.
| | |
| --- | --- |
| | Police, Fire, Courts |
---
BERETANIA CRASH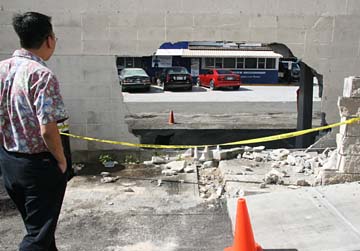 Man charged in alleged assault
Authorities charged a 38-year-old man yesterday for allegedly trying to rape a 49-year-old woman at knifepoint during a break-in of her Waialua home Wednesday morning.
Mark Stephen Panela was charged with first-degree burglary, kidnapping and attempted first-degree sexual assault. He was being held in lieu of $50,000 bail for the three charges and $650 for three unrelated warrants.
Someone called police after hearing the woman scream for help, and police officers could hear her when they arrived at 5:21 a.m. and opened the front door, police said in a court affidavit.
The woman ran toward the front door screaming, "Help, he's trying to rape me," police said. Police arrested Panela inside the home.
The woman was asleep in bed when she awoke to find a man holding her down, police said. He then allegedly pulled out a knife and showed it to the woman.
He then allegedly tied her hands and began to pull her shorts down, police said. The woman "tried to fight her way out," fearing she would be killed, police said.
The woman received injuries to her neck, face, arms and back with abrasions to her face, and was taken to Wahiawa General Hospital in good condition, police said.
HONOLULU
Collision with car hurts mo-ped rider A mo-ped rider was critically injured last night at Lusitana Street and Puowaina Drive.
The crash, involving a mo-ped and a car, occurred at about 8 p.m.
The mo-ped driver, a man in his late 30s to early 40s, was taken in critical condition to the Queen's Medical Center.
No further details were available at press time.
Officers detain alleged sex abuser
An alleged child sexual abuser was apprehended earlier this month as he arrived from Asia.
On Nov. 14, Jason Ferdinand Baer provided a New York state address to U.S. Customs and Border Protection officers as he tried to enter the country through Honolulu Airport from Narita, Japan.
Background checks revealed Baer having two outstanding warrants from Texas for alleged child sexual abuse. He allegedly escaped from a Fort Worth halfway house in August 2003, and a no-bail warrant was issued. A Tarrant County, Texas, warrant was also issued for Baer's alleged failure to comply with sex offender regulations.
EAST OAHU
Man found on road puzzles police Police are investigating how an injured man came to be lying on Kalanianaole Highway in Kahala early yesterday.
Police said that at about 1:30 a.m. officers responded to a report of a man lying in the middle of the town-bound lanes of Kalanianaole Highway near the Ainakoa Street intersection.
The man, who appeared to be in his 30s, was taken to the Queen's Medical Center in critical condition. Police said the man was not involved in a traffic accident, but might have jumped out of a moving vehicle, perhaps during an argument.
WEST OAHU
Car injures girl near Aiea school An 11-year-old girl was seriously injured yesterday morning after being hit by a car near an Aiea school.
At about 7:20 a.m. a car hit the 11-year-old as she crossed Moanalua Road toward Alvah Scott Elementary School. She was sent to the Queen's Medical Center in serious condition. Police made no arrests in the case.
NEIGHBOR ISLANDS
Woman is charged after home invasion Hilo detectives charged a 39-year-old Puna woman with first-degree hindering prosecution in connection with a reported home invasion robbery in the Hawaiian Acres subdivision of Mountain View early Saturday evening.
Wendy M. Joao of Glenwood was charged Wednesday in connection with false and misleading statements she allegedly gave detectives. She is the mother of Darren Joao, who is being sought by police as a person of interest in the home invasion. Bail for Wendy Joao is set at $2,000 pending her initial court appearance, scheduled for this afternoon in South Hilo District Court.
Detectives are continuing to investigate the home invasion.
Anyone with information on the identity of the persons involved or Darren Joao's location may call Detective Reed Mahuna at 961-2384 or the Police Department's nonemergency number at 935-3311.