| | |
| --- | --- |
| | In The Garden |
---
Naio is a plant that takes different forms
Naio
(False sandalwood)
Myoporum sandwicense
Description: Depending on which island you're on and which part of the island, naio can take on a different form. For instance, it can be a prostrate ground cover, such as naio papa at South Point on the island of Hawaii; or it could be a fairly large shrub (about 8 to 10 feet tall) as at other coastal areas, including the Pohakuloa region, again on the Big Island; or it could take the form of a 50- to 80-foot-tall tree, as in the upper dry forests and subalpine regions of Maui and Hawaii.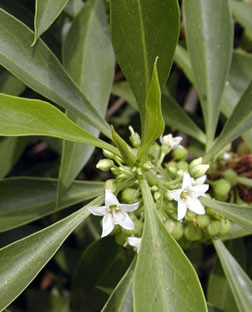 All of these forms usually include glossy dark green, glabrous leaves ranging from 1 to 8 inches long and about 1 to 2 inches wide. I say "usually" because there is also an endangered subspecies of this plant found on Oahu (M. sandwicense sub sp. stellatum) that has smaller leaves covered by tiny tan-colored hairs that make it appear velvety. All the plants will have small, whitish-pink flowers about a half-inch in diameter that emit a spicy sandalwoodlike fragrance. Once pollinated, the flowers develop into small, fleshy white fruit containing a single hard seed.
Distribution: This is an indigenous plant found in the coastal dry forest up to the subalpine dry forest on all the main islands except Kahoolawe. On Oahu this plant is primarily found around Kaiwi (Allen Davis), Kaena and Kalaeloa (Barbers Point), where the endangered, endemic subspecies mentioned above is located.
Cultural uses: The hard wood is used in construction of houses, spears and small utensils.
Landscape uses and care: This hardy plant thrives in full sun with minimal watering. It does well as a specimen plant or as a medium-size hedge, with its dark green leaves a particular attractive feature. Few pests bother this plant, therefore pesticide application is usually not necessary. Naio is also used in soil bioremediation since studies have shown it removes and breaks down petroleum-based substances in the ground. It's amazing that this plant isn't used more often in landscapes for its striking foliage and screening capabilities. It is available at Home Depot stores, as well as at Hui Ku Maoli Ola, for about $6.
Also: This plant is also known as bastard sandalwood since it was used to fill orders of sandalwood exported to Asia when sandalwood became scarce. Its fragrance resembles the scent of sandalwood when the tree is cut or burned, however, it doesn't retain its scent as long as true sandalwood.
---
Rick Barboza co-owns Hui Ku Maoli Ola, a native Hawaiian plant nursery, with Matt Schirman. Contact him at 295-7777 or e-mail
Rick.CK.Barboza@gmail.com