---
FAST FACTS HAWAII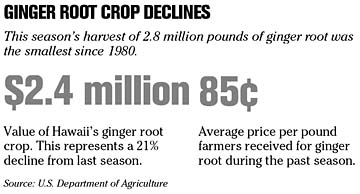 ---
NATION
Anheuser-Busch to raise prices ST. LOUIS » Anheuser-Busch Cos. thinks consumers are more than willing to pay a little extra for beer.
The nation's biggest brewer will continue raising prices to counter a rise in the cost of ingredients, Chief Financial Officer W. Randolph Baker told a group of stock analysts at a conference in New York yesterday.
Baker said consumers have accepted price increases on most products in 2007, sustaining profits for the maker of Budweiser, Bud Light and Michelob.
"Our object for the year was to find a way to cover (cost increases), and we did -- but just barely," Baker said. The cost of agricultural commodities like hops and barley has risen steeply, Baker said.
AT&T: Faster iPhone due in 2008
SAN JOSE, Calif. »
AT&T Inc.
says it plans to offer a version of an iPhone next year that runs on a faster wireless network so users can get speedier results when surfing the Web.
AT&T Chief Executive Officer Randall Stephenson spilled the news during his appearance at an event late Wednesday at the Churchill Club in Santa Clara.
A spokeswoman for Apple declined to comment yesterday.
Many industry observers had expected Apple Inc. to make the iPhone work on faster 3G networks at some point but couldn't pinpoint when.
Mortgage rates lowest in 2 years
WASHINGTON » Mortgage rates fell sharply this week with rates on 30-year mortgages dropping to the lowest level in more than two years.
Freddie Mac, the mortgage company, reported yesterday that 30-year, fixed-rate mortgages averaged 6.10 percent. That was down from 6.20 percent last week and was the lowest rate since the week of Oct. 13, 2005, when rates stood at 6.03 percent.
Rates on 15-year fixed-rate mortgages, a popular choice for refinancing, slid to 5.73 percent, from 5.83 percent last week.
For five-year adjustable-rate mortgages, rates edged down slightly to 5.86 percent, compared with 5.88 percent last week. Rates on one-year adjustable-rate mortgages edged up slightly to 5.43 percent, compared with 5.42 percent last week.
BRIEF CASE
t-bills up
.
Treasuries headed for their best month in 12 years as Federal Reserve Chairman Ben S. Bernanke said volatility in credit markets has "affected" prospects for the economy. An index of Treasury securities returned 3.2 percent as of Wednesday, according to Merrill Lynch & Co., fueled by traders betting the Fed will cut interest rates next month.
morgan stanley president out. Zoe Cruz, one of the highest-ranking women on Wall Street, will leave Morgan Stanley in the latest management shakeup since the summer's credit turmoil.
E-trade investment. E-Trade Financial Corp., which teetered on collapse amid the growing mortgage crisis, is getting a $2.55 billion cash infusion from Citadel Investment Group in a bid to revive the battered discount brokerage.
---
[ HAWAII INC. ]
Promotions
» The Royal Hawaiian Waikiki has named
Keith Marsden
as assistant outlet manager at the Surf Room. He previously served as assistant outlet manager at the Sheraton Waikiki Ocean Terrace restaurant. He has also served as restaurant and beverage manager at the Pacific Islands Club and supervisor and server trainer at Planet Holllywood in Guam.
Board of directors
» The Hawaii Employers Council has announced its board of governors at its 64th annual meeting: Newly-elected members are
Michael Cheng
, Hawaii Medical Service Association;
Perry Confalone
, Carlsmith Ball;
Masanobu Kubo
, International In-Flight Catering Co.;
Son-Jai Paik
, Alexander & Baldwin; and
David Rietow
, Agro Resources Hawaii. Re-elected members are
Patrick Ching
, Servco Pacific;
Robert Dove
, Hawaii Employers' Mutual Insurance Co.;
E. Alan Kennett
, Gay & Robinson;
Kyoko Kimura
, Diamond Hawaii Resort & Spa;
Patricia Tam
, Halekulani Corp.; and
Jim Yates
, Mid Pac Petroleum. Also appointed to the board are
Mel Chiba
, Kauai Community Federal Credit Union and
Tony Krieg
, Hale Makua.
» The Hawaii International Real Estate Council has announced its officers for 2008: Steve Terada of Terada Real Estate, president. He replaces Judith M. Sykes, who now serves as immediate past president. Other officers elected are Laisin H. Lee, president-elect; Phoebe Chrisman, secretary; and Kathy Tswei, treasurer.
Awards
» Corporate & Incentive Travel has presented the
Turtle Bay Resort
with its 2007 Greens of Distinction award at the magazine's annual black-tie awards gala in New York City. The resort was selected by readers in the Best Resort, Hotel or Conference Center that best served their needs with an incentive golf program, based on meeting facilities, course condition and design, staff assistance and overall hospitality.
---
BUSINESS PULSE