HIGH SCHOOL FOOTBALL
Mules' scheme makes defensive backs dizzy
Fourth In A Series
For most of the season, Leilehua counted on Kaipo squared.
That is, quarterbacks Kaipo Ke-a and Kaipo Rego. Then, as they fought for a playoff berth, both Kaipos went down with injuries, and the call went out to junior-varsity star Andrew Manley.
Mules coach Nolan Tokuda knew Manley had varsity talent, but the 6-foot-2, 180-pound gunslinger sat his freshman season with an injury. Tokuda opted to keep Manley on the JV as a sophomore to gain experience. Since his call-up, Manley is 4-0 as Leilehua's unexpected starting signal-caller, and his biggest challenge awaits tomorrow when the Mules face highly favored, top-seeded and unbeaten Saint Louis.
The byproduct of Manley's ascension, not surprisingly, is that Tokuda's playbook has opened up significantly. The I-slot isn't as common now, and any of the plays that Tokuda and his nimble staff had been dreaming up for the 2008 season were hatched a year in advance. The giveaway was the move of running back Rico Newman to slotback, where he would get more playmaking opportunities.
The result of the wide-open attack? The defensive-minded Mules overcame the potent Baldwin Bears in a semifinal shootout over the weekend, 41-34.
---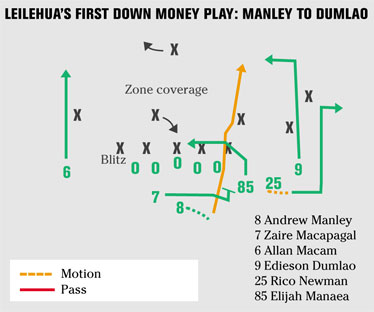 ---
The Mules virtually matched the Bears in a run-and-shoot aerial circus, and it was because of Manley's persistence and a fleet of outstanding receivers. Among them was Edieson Dumlao.
Baldwin's need to blitz Manley -- he was sacked six times -- often paid off. Sometimes, however, Manley's toughness in the pocket paid off handsomely. Leilehua used motion, double stacks. trip formations, and more to get the most out of its pass catchers.
One play, with Newman going in motion to create a double stack with Dumlao, helped to free up Dumlao on a crucial first-down pickup. Manley's ability to throw bullets deep over the middle, where Dumlao found a momentary seam, is matched by few quarterbacks in the state.
Any foe, including Saint Louis, that dares to go with man coverage and/or single safety looks is gambling. Manley is young enough that he is only beginning to show glimpses of his potential. Saint Louis can't afford to make mistakes, whether they be too aggressive or too passive.
If the front four led by Ryan Eastman and Geordon Hanohano can get to Manley often enough, the Crusaders won't have to blitz often, and their secondary will be thankful and successful.