---
FAST FACTS HAWAII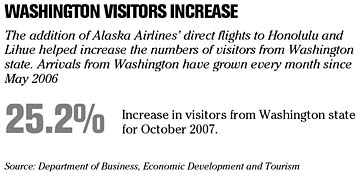 ---
NATION
Deal reached in Broadway strike NEW YORK » Broadway stagehands and theater producers reached a tentative agreement yesterday to end a strike that has shut down more than two dozen plays and musicals for more than two weeks.
The settlement came after two days of marathon, all-night sessions and months of negotiation between Local 1 and the League of American Theatres and Producers. The walkout, which began Nov. 10, has cost the city and theaters millions of dollars in lost income.
Both Local 1 and the league had been under pressure to find a solution to the conflict as box-office losses climbed -- such big hits as "Wicked" and "Jersey Boys" regularly gross more than $1 million each week -- and other Broadway unions, such as Actors' Equity Association, began to feel the effects of no paychecks.
American to sell its regional airline
DALLAS » The parent of American Airlines said yesterday it plans to sell or spin off its American Eagle regional carrier next year. Its shares rose 6.9 percent.
Investors have been pressing AMR Corp. to sell the regional airline and other assets, moves they say could raise money and lift AMR's stock price.
American Eagle operates regional jets that connect American Airlines hubs such as Dallas-Fort Worth with smaller cities. It has about 300 planes and operates about 1,700 daily flights to more than 150 cities in the United States, Canada, Mexico and the Caribbean. It generates annual revenue of about $2.3 billion.
BRIEF CASE
SUBPRIME LAYOFFS
.
Battered by the subprime mortgage crisis, Bear Stearns, the biggest underwriter of U.S. mortgage bonds will eliminate 650 jobs in the firm's fourth round of cuts this year amid mounting losses on subprime home loans.
FORD SETTLEMENT. Ford Motor Co. agreed to settle class-action lawsuits covering plaintiffs in four states who claimed its Explorer sport utility vehicles were prone to rollovers.
NEW NUCLEAR PLANT. Energy company Dominion Resources Inc. has filed an application to build an additional nuclear reactor at its North Anna Power Station, company executives said yesterday, making the energy company the third to seek federal regulators' permission to build a new nuclear reactor.
---
BUSINESS PULSE