Mules up against Crusaders' flex option
THIRD IN A SERIES
Saint Louis practically patented the run-and-shoot offense more than a decade ago when the Lee brothers, Ron and Cal, were in charge.
State Football Championships
At Aloha Stadium

Friday's games

Division II championship

» Iolani vs. Lahainaluna, 5 p.m.

Division I championship

» Saint Louis vs. Leilehua, 8 p.m.
Under Delbert Tengan, the Crusaders have mastered the flex option, popularized at the college level (Texas, West Virginia, Florida), which incorporates the shotgun with the option, often using the slot in motion to the backfield.
Saint Louis has also borrowed from the Pistol formation, popularized by Nevada, among others. As of late, the Crusaders unleashed their bevy of outstanding receivers with a "throwback" run-and-shoot attack. As soon as quarterback Micah Mamiya could be categorized as an option quarterback, he threw the ball with authority as the Crusaders racked up 44 points against a normally outstanding Waianae defense in last weekend's semifinals.
So, what to make of Saint Louis' dynamic offense? The key is protecting Mamiya, 22-0 as a starter and one win away from his first state title. Protection is paramount; his injury in last year's semifinal basically cost then-No. 1 Saint Louis the 2006 crown. And yet, late in the regular season, Tengan allowed Mamiya to delve deeper and deeper in to the option playbook.
Mamiya, who normally pitched the ball out of the shotgun quite early to his running backs, began to weave deeper downfield. His footwork, reads and execution were outstanding, on par with many of the great option quarterbacks in Hawaii prep history. However, whether Saint Louis will turn back to the flex option remains to be seen.
It is, without a doubt, a truly dangerous weapon in the Saint Louis arsenal, and if offensive coordinator Vinny Passas calls on his protege to do so, Mamiya will be ready.
Stopping the flex option? Most defenses would rather see Saint Louis run the ball than pass, especially if it gives opponents ample opportunity to punish Mamiya. Though he is a big-play scrambler and deep-ball slinger, it is the efficiency of the ground game that makes Saint Louis a tough team to come back on. Whether they call running back draws through the gut behind a dominant offensive line or rely on Mamiya's ability to read the defensive end on the option, there hasn't been a team as balanced as Saint Louis in many a year.
Spy on Mamiya? He doesn't look to scramble often enough to make this a necessity, but no team could be faulted for turning a rover into a spy.
If any team had a chance to contain Mamiya, it could be Leilehua with stud defender Robert Siavii.
For the most part, however, man coverage usually ends in disaster. Zones get busted by Mamiya's accurate touch and explosive running backs. Pick your poison.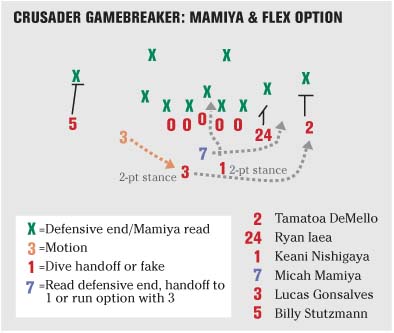 ---