---
[ BOOKSHELF ]
Writers offer recipes for great isle parties
Just in time for the holiday party season, two of Hawaii's foremost foodies are in bookstores with cookbooks on entertaining.
Veteran cookbook author Muriel Miura's contribution is "Hawaii's Party Food" (Mutual Publishing, paperback, $14.95), while Wanda A. Adams, food editor at the Honolulu Advertiser, has "Entertaining Island Style: 101 Great Recipes and Tips from Hawai'i" (Island Heritage, hardcover, $15.95).
Both offer tips on throwing a tropical-themed party, but mostly they offer plenty of recipes for everything from easy-to-eat finger foods to entrees designed to impress.
Their best advice? Relax and enjoy. As Miura writes, "The most important reason to entertain is to spend time with friends; sharing the occasion is more significant that what is presented."
And as Adams writes in a chapter on potlucks: "They require the strategic planning of a military campaign, but in a hang-loose kind of way -- everybody pitches in to kokua."
---
[ MORSELS ]
WHITE FOR THE HOLIDAYS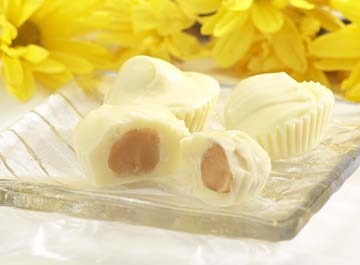 Plantation Village cooks up festival
Hawaii's Plantation Village in Waipahu is hosting a day of food sampling and cooking demonstrations at a Plantation Cooking Festival, 10 a.m. to 2 p.m. Saturday.
Recipes selected from the village's cookbooks -- Chinese, Portuguese, Puerto Rican, Japanese, Okinawan, Korean, Filipino and Hawaiian dishes -- will be served.
Also, docents will offer tours of the plantation homes in the village and talk about life in the plantation days. Cooking demonstrations will feature volunteers Espy Garcia, with her mother's Filipino dish at 10 a.m., and Steve Pang with a Chinese dish at 11 a.m. Chef Darren Demaya of Alan Wong's Restaurant appears at noon. Ice cakes will be made and served at 1 p.m.
Admission and parking are free. Call 677-0110.
KCC student wins culinary contest
A dinner built around a butter-basted chicken breast with gnocchi won the fourth annual Tom and Warren Matsuda Scholarship Culinary Competition for Kapiolani Community College student Adina Guest.
Guest receives a $1,000 scholarship and will work with chef Roy Yamaguchi at a charitable event or cooking class on the mainland.
Three finalists, chosen from among applicants throughout the state's seven culinary programs, prepared their three-course menus during a cook-off Nov. 18 at the Sub-Zero/Wolf Showroom.
Second place went to Justin Nip and third place to Ayumu Matsutaka, both KCC students.
Macrobiotic diets fits in with holidays
Personal chef Kathy Maddox will demonstrate how to make holiday dishes with a macrobiotic approach that focuses on achieving physical and emotional balance.
The demonstration takes place from 9 a.m. to noon Saturday at the Green House, 224 Pakohana St. in Pauoa Valley. Cost is $25. Registration is required; call 524-8427.