---
FAST FACTS HAWAII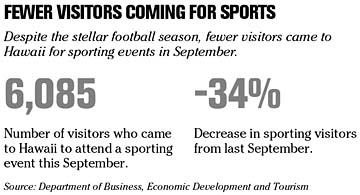 ---
HAWAII
DTRIC latest to cut auto rates DTRIC Insurance Co. Ltd. has reduced its automobile premiums an average 5.1 percent this month, the company announced yesterday.
The insurer has about 22,000 automobile policies. Some policy holders will see reductions of up to 25 percent, said Linh DePledge, vice president of sales & marketing.
DTRIC, which has been providing automobile insurance in Hawaii for more than 15 years, follows other major Hawaii insurers that have all cut premiums earlier this year.
New and existing customers renewing policies were expected to see reduced premiums as of Nov. 15.
HMSA rewards docs, hospitals
Hawaii Medical Service Association
has awarded local physicians and hospitals some $16 million this year under its pay-for-performance programs, the insurer said yesterday.
HMSA said the amount of money it has spent on the programs since they began has topped $113 million.
The insurer makes the awards -- on top of providers' regular reimbursements and annual fee adjustments -- for meeting its standards of health-care quality, safety, satisfaction and efficiency.
The state's largest insurer said its 10-year-old Practitioner Quality and Service Recognition program resulted in practitioners receiving $10 million this year, up from $2 million in 1998. Its 7-year-old Hospital Quality and Service Recognition program gave more than $6 million in awards to 17 hospitals, compared with $2 million in 2001.
NATION
Verizon opens phone network BASKING RIDGE, N.J. » Verizon Wireless plans to open its network to devices and software from any company, becoming the first U.S. mobile-phone service provider to promote unrestricted access.
Device makers can use instructions Verizon plans to publish early next year to create and sell phones, gaming devices, household appliances and other gadgets that will work on the nationwide network. Clients also can keep buying phones directly from the company, the second-biggest U.S. wireless carrier.
Verizon's decision may force rivals AT&T Inc. and Sprint Nextel Corp. to follow suit, Gartner Inc. said.
The decision also aligns Verizon Wireless with former opponent Google Inc., which had urged the government to create rules forcing carriers to open their networks ahead of an airwave auction.
BRIEF CASE
LIQUIDATING
.
Wells Fargo & Co. says it will take a $1.4 billion provision in the fourth quarter for loan losses and liquidate the riskiest 3 percent of its loan balance.
SHORING UP. Federally chartered mortgage investor Freddie Mac halved its dividend and unveiled plans to sell $6 billion of preferred stock to bolster its finances in anticipation of more losses.
---
BUSINESS PULSE