---
FAST FACTS HAWAII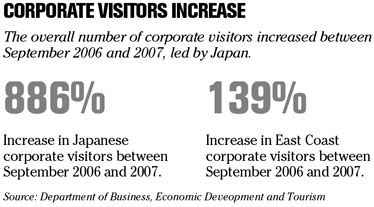 ---
Belt Collins buys Colorado firm
Architecture and consulting firm
Belt Collins Hawaii Ltd.
said yesterday it has acquired Colorado landscape architecture firm Shapins Associates.
Shapins, founded 18 years ago, has 12 employees in its Boulder, Colo., office and is currently handling between 50 and 60 projects on the mainland, said Bill Bobzien, executive vice president of the office. The company's name has been changed to Shapins Belt Collins, and one landscape architect has moved from Hawaii to join the Colorado team, he said.
The acquisition helps build Belt Collins' portfolio of Bureau of Land Management and National Park Service projects, including work in the Grand Canyon and Liberty Island in New York, Bobzien said.
Belt Collins has more than 450 employees in nine offices around the Pacific, including Seattle, Hong Kong and the Philippines.
BRIEF CASE
UNIVERSAL THEME
Universal Parks & Resorts and South Korea's Gyeonggi province have agreed to build a $3.1 billion theme park south of Seoul. The park, to be built in the city of Hwaseong, is to open in 2012.
VIRGIN ROCK?
Northern Rock PLC will hold accelerated takeover discussions with a consortium led by Virgin Group, the battered mortgage lender said yesterday. Virgin wants to re-brand Northern Rock as part of Virgin Money business
TALK, NO ACTION
The first day of a new round of contract negotiations between striking movie and TV writers and Hollywood studios concluded yesterday without a deal. Talks are expected to resume today.
NEW HIRES / PROMOTIONS
» Hyatt Regency Maui Resort and Spa has promoted
Joseph Medwetz
to director of group sales from associate director of sales. He will be responsible for group sales efforts for the continental U.S. He has served the served the resort for more than two years and has previously served at Hyatt Regency San Francisco Airport for five years.
» Aloha Airlines has announced the following promotions: Mike Coffman has been promoted to senior vice president of airline operations from vice president of airline services. He joined the company in 2002 and has previously served as president and general manager of air, ground and freight services, and as vice president of regional sort operations, western region for FedEx. He has also served as vice president of passenger services and vice president of maintenance and engineering at American Airlines for 17 years. Devin Shishido has been promoted to regional director of station operations from Honolulu station director. He will oversee operations in Honollulu, Lihue, Hilo and Kona. He joined the company in 2003 as manager of the systems operations control center and has also served as SOCC director in 2005. Eddy Ganir has been promoted to regional director of station operations from Maui station director. He will oversee operations for Maui, Oakland, Orange County, Sacramento, San Diego, Las Vegas and Reno. He joined the company in 2006 as Maui station director and has more than 35 years experience with Continental Airlines.
» Goodsill Anderson Quinn & Stifel has announced the following new hires to the firm: Alicia G. Huffman focuses her practice in litigation. She previously served as a litigation associate at Sherman & Sterling in San Francisco. Jonathan E. Shardlow focuses his practice in environmental law. He previously served as an associate at Downey Brand in Sacramento, California. William K. Tanaka focuses his practice in litigation. He previously served a clerkship for the Honorable Randall Lee at the First Circuit Court of Hawaii, and has held judicial externships with the Honorable Helen Gillmor at the U.S. District Court for the District of Hawaii and the Honorable Eden E. Hifo at the First Circuit Court of Hawaii. Nicolas T. Kelsey focuses his practice in labor and employment. He previously served clerkships Filice Brown Eassa & McLeod in Oakland and the Office of the District Attorney in Santa Cruz, California, and a judicial externship with Chambers of Chief Judge Vaughn R. Walker at the U.S. District Court of the Northern District of California. Claire E. Goldberg focuses her practice in litigation. She previously served as contributing editor to the Michigan Journal of International Law and as an executive board member of the Asian Paciic American Law Students Association. Rebecca L. Dayhuff focuses her practice in Pacific Asian legal studies. She joins the firm's real estate group.
---
BUSINESS PULSE