---
FAST FACTS HAWAII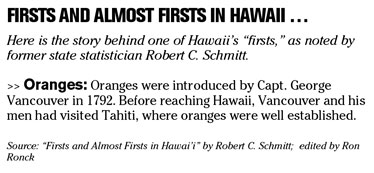 ---
NATION
Signs to look for in aging parents
Going home during the holidays can be a good time to make sure parents are doing well.
The Mayo Clinic offers a checklist to help children make sure their aging parents are healthy and happy:
» Weight loss. Unintentional slimming-down in seniors can be a precursor of cancer, dementia, depression or heart failure. The weight loss and accompanying malnutrition can also signal loneliness and listlessness, as elderly parents find themselves unwilling to spend energy cooking for themselves.
» Neglected housework or home maintenance. Physical impairments that lead to a dirty or dangerous house -- poor eyesight, achy joints that hinder cleaning -- could put parents living alone in danger. Pots that are out of place and burnt-out light bulbs that aren't replaced can be signs of memory loss. Make sure parents are still safe in their home -- a lack of light and order can cause a dangerous fall.
» Neglected personal appearance. Dementia, depression and an aging body can make basic hygiene, such as brushing one's teeth and bathing, difficult as well as unappealing.
» Moodiness. Withdrawn behavior and a loss of interest in activities, hobbies and friends are warning signs of depression.
» Trouble walking. Parents who have a difficult time maneuvering the house may be showing signs of arthritis or other joint problems as well as muscle weakness. A cane or walker could help. Unsteady parents are at greater risk for a fall, especially on stairs.
Worried children should sit down with parents and discuss options, said the Mayo Clinic, or involve a family doctor and local government agencies for more help.
Women more aware of their finances
Women may spend more than their male counterparts. But when it comes to paying the bills, they are more conscious of their finances, according to a recent survey.
A poll for the Guardian Life Insurance Co. of America found that 90 percent of women are adamant about having accurate knowledge of their credit card or loan debt, versus 82 percent of men.
Women are more likely to face the music when it comes to how much they spend -- only 9 percent said they didn't want to know how much they owed, compared with 16 percent of men.
When it comes to actually reviewing their accounts on a weekly basis, 29 percent of women and 20 percent of men claim to do so.
"In my experience as a financial planner, women are often more cautious when it comes to money," said Mary Lou James of the Guardian Life Insurance Co. of America.
The nationwide telephone interviews of 484 men and 516 women were conducted by Opinion Research Corp.
---
BUSINESS PULSE