BOOKSHELF
Isle Pages
New book releases from Hawaii authors
"Why You Shouldn't Throw a Snake at Your Mother"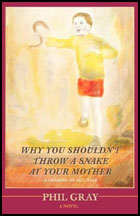 By Phil Gray
Print-on-demand via iUniverse.com or amazon.com
Retail: $14.95
"Because she'd smack you good," is the obvious answer to the question implied by the title of this story. But sometimes such risks are the way we learn and grow. The Honolulu-based writer set his story in 1952 Connecticut, a time and place when kids found their own fun, without benefit of television or video games. His central character is a 10-year-old boy whose idea for a practical joke sets off a chain of misadventures.