BOOKSHELF
Santa's distracted by visit to paradise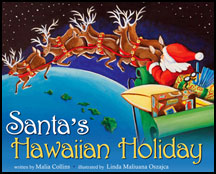 A tired and stressed-out Santa Claus make his way to Hawaii for some much-needed downtime in Malia Collins' tale "Santa's Hawaiian Holiday." From the North Pole to the sands of Waikiki Beach, Santa surfs, snorkels and learns to hula.
The book takes local readers on a familiar trip around Oahu. Santa catches the bus for the circle-island tour, stopping to ride horses at Kualoa Ranch and to fish in Kahaluu. He also stops at local hangouts, including Longs to pick up macadamia nuts, li hing mango and rubber slippers, and then Zippy's to purchase some Zip Pacs. Newspaper clippings throughout the book highlight "Santa spottings."
Getting accustomed to the relaxation, with Christmas just days away, two kids in Kailua (where Collins was born and raised) decide to intervene. They show Santa how to take Hawaii with him and share it with the world.
"Santa's Hawaiian Holiday"
By Malia Collins

Illustrated by Linda Maliuana Oszajca

$14.95

(BeachHouse Publishing)
Collins wrote the book during a cold winter in Boise, Idaho. "I'd been back home in Hawaii for Christmas. I looked outside, the yard was filled with snow and I hadn't seen the sun in days," she said. "It was me looking outside and dreaming myself back to Hawaii that made me want to write this particular Christmas story."
Growing up in Hawaii, Collins' earliest holiday memory is of Christmas Eve when her parents took her to Santaland at Ala Moana.
"I thought it was the greatest place on the earth. ... I just loved those big cotton snowdrifts," Collins said.
"I also remember waking up on Christmas morning, chomping at the bit to open presents, and after we ripped through everything, my parents took us to the beach. I think I thought that's how everybody spent Christmas."
---
LAUNCH PARTY
Book Signings
» Wednesday: With refreshments, 6 to 8 p.m. Borders Windward Mall
» Saturday: 10 to 11 a.m. Navy Exchange, noon to 1 p.m. Borders Pearlridge, 2 to 3 p.m. Borders Ward
» Next Sunday: 2 to 3 p.m. Borders Waikele, 4 to 5 p.m. Borders Windward Mall
» Dec. 9: Noon to 1 p.m. BookEnds Kailua
» Call: 732-1709
---