| | |
| --- | --- |
| | Wood Craft |
---
Hawaii writer gets 2nd story in 'Chicken Soup' books
"Christmas at Six," a short story by Hawaii author
Kerry Germain
, 46, of Haleiwa, has been published in the recently released "Chicken Soup for the Soul Christmas," the latest book in the New York Times best-selling "Chicken Soup for the Soul" series.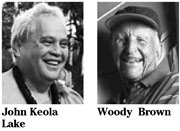 Kerry's story is about the one gift she wanted for Christmas when she was 6, a cedar log cabin playhouse she saw in a catalog. Kids could stand in it. Her family was living in Brentwood, Calif., at the time. She also had a story in "Chicken Soup for the Preteen Soul II" ... Buy a copy of
Jefferson Finney's
"A Clever Dog" for $15 at the Star Bulletin's office by Dec. 21 and $5 will go to the Good Neighbor Fund to help needy people during the holidays. Jeff scored a coup by landing
Pegge Hopper
, one of Hawaii's top artists, to do the illustrations for the children's book ...
Nice of Nordstrom at Ala Moana Center to turn its grand opening March 7 into a benefit for Bishop Museum, Hawaii Theatre Center and HUGS. And it will certainly be a blessing to have all that construction congestion over with at the center. Tickets to the big retailer's opening party will cost $150. There will be a fashion show to go along with drinks, pupu and entertainment at the opening. Call 732-1879 for tickets ...
A group calling themselves the "Dining Divas" turned heads while dining at Ruth's Chris on Waikiki Beach Walk Nov. 16. The Divas are Amie Bowlen Klemmer, Tanya Watumull, Julie Sandvold, Caroline Kauhane, Sandee Bryan, Lisa Sellers, Lianne Chan and Stephanie Johnston ...
Hula grill honors kumu Hula John Lake
Hula Grill Waikiki honored Kumu Hula
John Keola Lake
with its first I Ola Mau Ka Hula award for his perpetuation of hula last Saturday. Lake's halau performed.
Michael Pili Pang
gave John a proclamation from Mayor
Mufi Hannemann
declaring it Lake's day ... The award-winning film, "Of Wind and Waves: The Life of
Woody Brown
," will be shown by PBS Hawaii's KHET Dec. 11 at 8 p.m. And a remarkable life Woody, 95, has had. A longtime resident of Hawaii, Brown is credited with inventing the modern catamaran, setting world gliding records and being one of Hawaii's early big wave surfers. He ran away from a life of privilege in New York to become a protégé of
Charles Lindbergh
at age 16 ...
Ben Wood
, who sold the Star-Bulletin in the streets of downtown Honolulu during World War II, writes of people, places and things in our Hawaii. E-mail him at
bwood@starbulletin.com